I found many variations of this Applesauce 7-UP JELL-O Salad with a reference dating back to a 1964 Better Home's and Garden recipe.
The applesauce and 7-UP soda make this JELL-O a denser consistency.  With the topping of the whipped cream mixture, it reminded my husband of Key Lime Pie flavors.  Without the whipped cream, you can really taste the applesauce flavor.  We agreed it was just plain delicious and finished our plates!  You can use  these ingredients with any flavor JELL-O – so be as creative as you desire!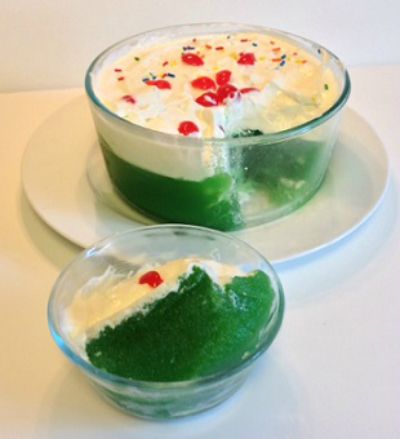 Learn about the interesting history Gelatin, Gelatine, and JELL-O.  Also Making Perfect Gelatin Tips.
Applesauce 7-Up Jell-O Salad Recipe:
Keyword:
Applesauce 7-Up Jell-O Salad Recipe
Ingredients
JELL-O Salad:
2

cups

applesauce

(either purchased or homemade)

1

large (6-ounce) package

JELL-O

Lime-flavored gelatin (any flavor of JELL-O may be used)

1

cup

7-Up

or Lemon-Lime Soda, chilled (do not use flat soda - you want the carbonation)

1

cup

celery,

chopped (optional)
Whipped Cream Topping:
3

ounces

cream cheese,

room temperature and chopped into blocks

2

cups

miniature marshmallows

1

cup

whipping cream
Optional Garnishments - Any variation of these can be used to decorate (use your imagination)
1/4

cup

pecans,

chopped

Lime

wedges, thinly sliced

1/4

cup (6 to 7)

Maraschino cherries,

drained and sliced (juices drained onto a paper towel)

Rainbow Sprinkles
Instructions
JELL-O Salad Instructions:
In a large saucepan over medium heat, heat applesauce until hot and steamy (do not let boil).  As an option, you can microwave for a few minutes until applesauce is very hot to the touch.  Add Lime JELL-O to the hot applesauce and stir for 2 minutes to completely dissolve.  Slowly add the chilled 7-UP and stir.

Pour in a glass serving bowl, cover with plastic wrap, and let sit in refrigerator for 8 hours to overnight to gel up.  Final product will be a light set gelatin (not a hard set gelatin).

Prepare Whipped Cream Topping.

About an hour before ready to serve, spoon the Whipped Cream mixture (see instructions below) over lime gelatin until spread evenly all over the Jell-O. Sprinkle with garnishments of your choice. Cover with plastic wrap and keep refrigerated until serving time. Always store gelatin dishes in a covered container to avoid the formation of a thick rubbery skin on the surface.
Whipped Cream Topping Instructions:
In large bowl, combine cream cheese, marshmallows, and whipping cream, stirring together until marshmallows are submerged. Cover with plastic wrap and set aside in refrigerator until the above Lime Jell-O mixture is set. The topping can also be made right before you are ready to serve JELL-O.

Remove the whipping cream mixture from the refrigerator. With electric mixer on medium speed. beat together the mixture until stiff peaks form. It will is OK for the mixture to be lumpy in appearance because of marshmallows. Do not over whip.
More Delicious Gelatin Salad Recipes:
Fiesta Carrot Pineapple JELL-O Salad
Here is a classic JELL-O recipe that is light and refreshing!  This salad is also sometimes known as "Sunshine Salad."
Tangy Tomato Aspic
This gelatin salad is a favorite family comfort food that we make and serve for Thanksgiving Dinner every year.  Very easy to make and so good!
JELL-O Sawdust Salad
JELL-O Salad layered with pineapple, marshmallows, bananas, and cheddar cheese.  Here is another classic JELL-O recipe from the 1950's that is found in most southern cooks' recipe files.
Red Hot Applesauce JELL-O Salad
The Red-Hots are used to add a tasty cinnamon flavor to this JELL-O dish.  This is a great side dish that many families like to serve at holiday meals to accompany ham or pork.  Great served as a side dish and it looks so beautiful!
Comments and Reviews