This Bruschetta-Style Cherry Tomato Salad is so good!  I love tomato season and my husband and I can not get enough of vine-ripened tomatoes.  We eat tomatoes in some form every night during tomato season.  Use fresh vine-ripened tomatoes either from your own garden or buy them at your local Farmer's Market.  Forget those bland-tasting tomatoes from your super market.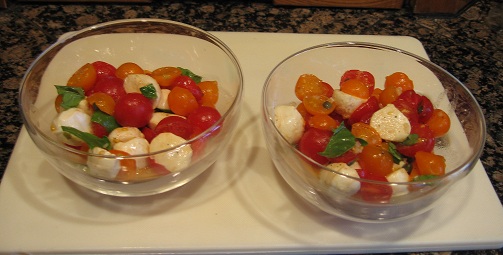 Bruschetta-Style Cherry Tomato Salad Recipe:
Keyword:
Bruschetta-Style Cherry Tomato Salad Recipe
Ingredients
I can not give you exact amounts for this recipe, as I just go into my garden and pick as many cherry tomatoes as I have or want. I then add the other ingredients according to how many cherry tomatoes I have. Be creative with this recipe. So simple to make and so delicious!
Instructions
Halve the cherry tomatoes. Place the halved cherry tomatoes and the mozzarella cheese in a serving bowl.

NOTE: I like to place the cherry tomatoes, mozzarella, and the dressing ingredients in a large resealable bag until ready to serve. This is a very easy way to marinate the cherry tomatoes, as you just turn the bag over several times before serving. When ready to serve, place the mixture in your serving bowl.

In a small bowl, combine the garlic, basil, capers, lemon or lime juice, olive oil, salt, and pepper. Pour over the tomato/mozzarella cheese mixture. Cover and let set at room temperature, stirring occasionally, until ready to serve.

Serve at room temperature.
Comments and Reviews