Fiesta Carrot Pineapple Jell-O Salad is a classic gelatin recipe that is light and refreshing!   This salad is also sometimes known as "Sunshine Salad."  While the pineapple-carrot flavor combination is unique, they work very well together.
My daughter's mother-in-law, Paula Hartman, would always bring this tasty salad to family gatherings – the whole family devours this JELL-O salad.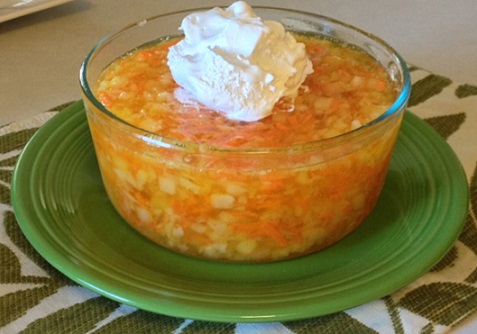 Learn about the interesting history Gelatin, Gelatine, and JELL-O.  Also Making Perfect Gelatin Tips.
Fiesta Carrot Pineapple JELL-O Salad Recipe:
Keyword:
Fiesta Carrot Pineapple JELL-O Salad Recipe
Ingredients
1

cup

boiling water

1

(3-ounce) package JELL-O lemon-flavored

gelatin

1

(14-ounce) can

pineapple

tidbits (reserve juice)*

1/2

cup

carrots,

shredded
Instructions
In a medium-size bowl, dissolve the Lemon Gelatin in the boiling water, stirring for 2 minutes with a rubber spatula, until all the crystals are dissolves; set aside.

Drain the pineapple juice into a one (1) cup measuring cup. Fill the rest of the cup to the top with cold water, thus you will have 1 cup of liquid. Pour the pineapple juice/water mixture into the dissolved Lemon Gelatin mixture, stirring to combine.

Cover the bowl and refrigerate the gelatin mixture until just slightly thicken (until it is the consistency of cold egg whites - but not set), approximately 1 1/4 hours.

Pour the gelatin mixture into a glass serving bowl or lightly-greased JELL-O mold. Cover and return to the refrigerator and chill until firmly set. For individual servings, gelatin mixture can be poured into lightly-greased muffin cups and then chilled.

The salad can be ready to serve in 2 hours or leave overnight. Keep chilled until ready to serve.

To serve, topped with whipped cream or topping (if desired).

Store gelatin desserts in a covered container to avoid the formation of a thick rubbery skin on the surface.

Allow gelatin to set until completely firm, several hours or overnight.

Before unmolding, dip knife in warm water and run knife around edge of gelatin to loosen.

Dip mold in warm water, just to rim, for 10 seconds.

Lift from water and gently pull gelatin from edge of mold with moist fingers. Place moistened serving plate on top of mold. Gently remove mold.
Recipe Notes
* Do not use fresh pineapple as it contains protein-splitting enzymes that will prevent the gelatin from setting.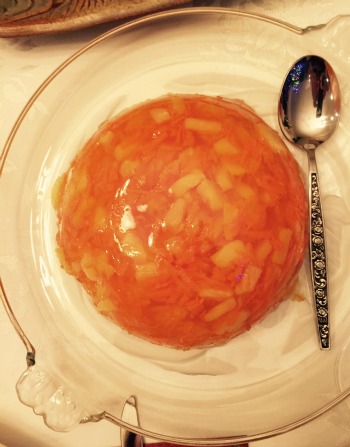 More Delicious Gelatin Salad Recipes:
Applesauce 7-UP JELL-O Salad
The applesauce and 7-UP soda make this JELL-O a denser consistency.  With the topping of the whipped cream mixture, it reminded my husband of Key Lime Pie flavors.  We agreed it was just plain delicious and finished our plates!
Tangy Tomato Aspic
This gelatin salad is a favorite family comfort food that we make and serve for Thanksgiving Dinner every year.  Very easy to make and so good!
JELL-O Sawdust Salad
JELL-O Salad layered with pineapple, marshmallows, bananas, and cheddar cheese. Here is another classic JELL-O recipe from the 1950's that is found in most southern cooks' recipe files.
Red Hot Applesauce JELL-O Salad
The Red-Hots are used to add a tasty cinnamon flavor to this JELL-O dish.  This is a great side dish that many families like to serve at holiday meals to accompany ham or pork.  Great served as a side dish and it looks so beautiful!
Comments and Reviews