Cobb Salad, probably one of the most famous salad in American culinary history, except maybe Caesar Salad, was actually created on the spur of the moment.  You can be as creative as you want with ingredients in making this delicious salad.  If I happen to eat at a restaurant that has this salad on the menu, you can bet that I will order it.
According to legend, this salad was the invention of restaurateur manager, Bob Cobb, who in 1926 at The Brown Derby restaurant in Los Angeles, California, found a way to use up leftovers.  Cobb had been improvising with this salad for years.  For more history of this salad, check out the History of Salads and Salad Dressings.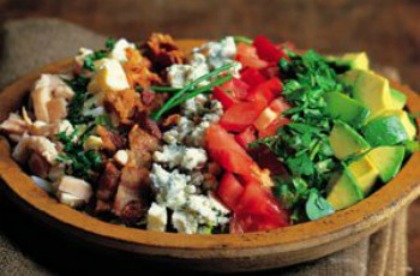 Cobb Salad Recipe:
Keyword:
Cobb Salad Recipe
Servings
:
4
to 6 servings
Ingredients
The below recipe is for a standard Cobb Salad, but it is OK to add other ingredients of your choice.

3

eggs,

hard-cooked and peeled

8

slices

bacon

1

head

romaine lettuce,

leaves separated and torn into bite-size pieces

Fresh

herbs

(of your choice)

2

cups

watercress lettuce,

chopped (tough stems removed)

4

cups

turkey

or chicken, cooked and diced

2

avocados,

pitted, peeled and diced

2

tomatoes,

chopped

1/4

pound plus 1 ounce

Roquefort cheese

or blue cheese, crumbled

1/4

cup

red wine vinegar

1

teaspoon

Worcestershire sauce

1/2

teaspoon

Dijon-style mustard

1

clove

garlic,

minced

1/4

teaspoon

coarse salt

1/2

teaspoon

black pepper,

coarsely ground

1/3

cup

olive oil,

extra-virgin

Several

long

chive

lengths (for garnish)
Instructions
Cut the hard-cooked eggs into 1/2-inch dice. Set aside.

In a large frying pan over medium heat, fry the bacon about 10 minutes or until crisp; transfer to paper towels to drain. When cool, crumble and set aside.

Make a bed of romaine lettuce on a platter, shallow bowl, or individual serving plates. Arrange the eggs, bacon, herbs, watercress, turkey or chicken, avocados, tomatoes, and the 1/4 pound Roquefort or blue cheese in a neat pattern atop the lettuce, in rows or in a checkerboard pattern (see photo above), covering the lettuce almost completely.

In a small bowl, whisk together the wine vinegar, Worcestershire sauce, mustard, garlic, salt, and pepper. Using a fork, mash in the remaining 1 ounce Roquefort cheese to make a paste. While whisking, slowly drizzle in the olive oil to form a thick dressing.

Pour a little of the dressing over the salad and garnish with chive lengths.

Serve immediately. Pass the remaining dressing at the table.
Comments and Reviews