I love any meal with a taco theme! If you love tacos and meal variations with basic taco ingredients then you will love this Couscous Taco Salad. It is easy to prepare and uses the healthy grain of couscous. Make a large batch to enjoy for family dinner or lunch for the week. Makes it nice to come home and dish up a ready to eat summer meal.
This Couscous Taco Salad recipe was shared with my youngest daughter by her daycare provider, Erica Miller. According to my daughter, Brenda, "Erica is a great cook and her kitchen always smells wonderful when I pick the kids up from daycare. We always enjoy sharing recipes with each other. One evening, she was excited to share her salad creation and sent me home with a small container to try. I love taco inspired meals so I was excited to try this out. It was delicious! I had to go to the store the next day to buy all the ingredients so I could make a large batch for myself to enjoy!"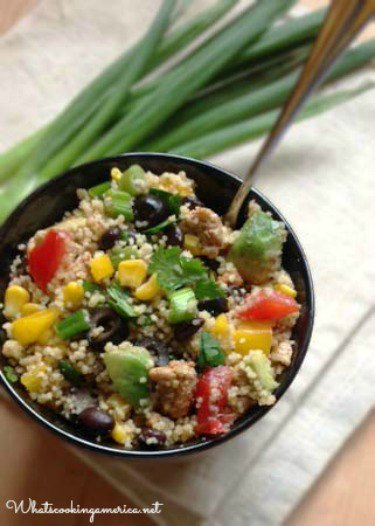 Check out more Salad and Salad Dressing Recipes.
Couscous Taco Salad Recipe:
Keyword:
Couscous Taco Salad Recipe
Ingredients
Couscous Taco Salad:
1

(14.5-ounce) can

chicken stock

(2 cups)

2

cups

couscous,

dried

1

pound

turkey,

ground

1

packet

taco seasoning

1

cup

water

1

(14.5-ounce) can

black beans,

rinsed and drained

1

(14.5-ounce) can

corn

kernels, drained

2

large

tomatoes,

diced

1

avocado,

peeled, pitted and cubed

1

orange or yellow

bell pepper,

cored and diced

1/2

cup

cilantro,

finely chopped

1/3

cup

green onion,

finely sliced

1/2

cup

black olives,

sliced (optional)
Instructions
Couscous Taco Salad Instructions:
Note: Preparing couscous is a 1:1 ratio of equal parts liquid (water or broth) and uncooked couscous.  If you plan to cook larger quantities, keep in mind that 1 cup dried couscous will make 4 cups of cooked couscous.

In medium sized saucepan, over high heat, pour in chicken broth and bring to boil. Remove the pan from the heat, turn off the stove and add the dried couscous, stir together until the couscous is combined with the broth. Cover the saucepan with a lid and let sit for 10 minutes or until the couscous has absorbed the water and texture is softened. Fluff the couscous with a fork and re-cover with lid until the rest of the ingredients are ready to mix together.

While the broth is boiling, brown ground turkey in medium sized skillet, over medium-high heat. Drain off any excess fat to discard. Next add spices from 1 taco seasoning pack and water. Stir together to combine. Turn the heat down to medium-low to let simmer until the excess liquid is cooked off. Remove skillet from heat and set aside to cool down.

In large bowl, add the couscous, ground turkey, black beans, corn, tomatoes, avocado, bell pepper, cilantro, green onion and optional olives.  Stir together to combine ingredients.  Next drizzle in the dressing and stir everything together.  Refrigerate until ready to serve. 
Dressing Instructions:
In a small bowl add red wine vinegar, lemon juice, olive oil, sugar and salt. Stir together to combine. Set aside until all ingredients are ready to assemble.
Comments and Reviews