Fig Caprese Salad Recipe to simple to make and elegant enough to serve to guests!  
Some really great fresh figs were shared with me today, and I was trying to figure out something fun to make with the figs.  Since cheese is a great compliment to figs, I decided on making a Caprese Salad.  The mozzarella cheese and the balsamic vinegar melded so well with the figs.  I finished off my salad quickly and plan on making this dish again.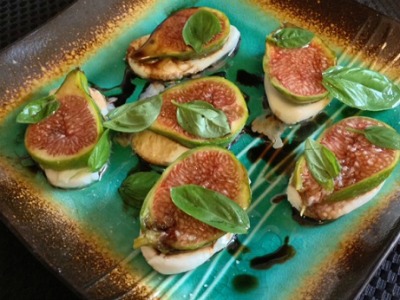 Fig Caprese Salad Recipe:
Keyword:
Fig Caprese Salad Recipe
Instructions
Alternate fresh mozzarella cheese slices on a large platter (or on individual plates if you are doing individual portions) with sliced figs, overlapping for effect.

Tear fresh basil leaves and sprinkle liberally over the slices. Add salt and freshly ground pepper to taste.

Just before serving, drizzle on some extra-virgin olive oil and some balsamic vinegar. NOTE: Insalata Caprese should never be allowed to sit in oil for any length of time and become soggy.

Serve immediately and enjoy!
Recipe Notes
* This is a great place to use your Fleur de Sel Salt
Comments and Reviews