Whether it's summer, spring or winter, I love to enjoy this refreshing fresh Fruit Salad recipe using a delicious 1-2-3 Fruit Dressing.  The combination of citrus fruits in the dressing gives the salad a wonderful fruit cocktail flavor! I use whatever fresh fruit is in season when making this salad.  During the summer months, I like to enjoy this salad with fresh seasonal berries, melons, nectarines and cherries. During the fall and winter months, I will add more apples, oranges, pineapple and mangoes.  Add your favorite fruits, the choice is up to you.  There are no strict rules for the ingredients in this recipe so you have lots of flexibility to get creative.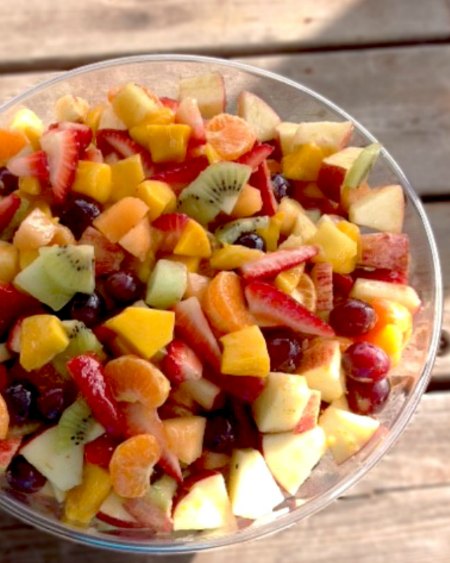 The 1-2-3 Fruit Dressing is from an older Betty Crocker Cookbook that has become a beloved side dish in my family.  My youngest daughter first tried this salad when a dear friend brought her a prepared home-cooked meal after their first child was born.  Not only did they appreciate having someone cook for them while adjusting to the new baby, but they became addicted to this salad and had to have the recipe.  It is now one of the most popular requested side dishes at our family holiday gatherings and picnics.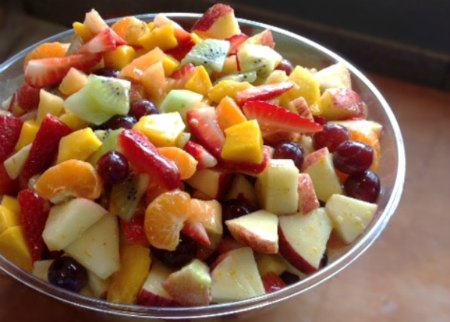 Winter Fruit Salads
In these versions of fresh fruit salad, I used whatever fruits were in season in the winter months.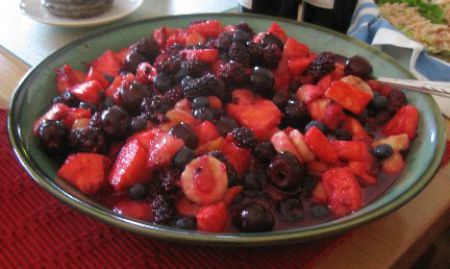 Summer Fruit Salad
In this version of fresh fruit salad, I used a lot of fresh summer berries.  The berries and cherries put a natural dye on the rest of the fruits.
Fresh Fruit Salad with 1-2-3 Fruit Dressing Recipe:
Ingredients
1-2-3 Fruit Dressing Dressing (see recipe below)





5 to 6 cups of a variety of fresh fruits of your choice be creative: 


Bananas, peeled and sliced
Blueberries
Blackberries
Cherries, pitted
Raspberries
Strawberries
Green and/or red grapes, halved
Kiwi fruit, peeled and sliced
Pears, peeled and sliced
Peaches, peeled and sliced
Mango, skinned, cored and sliced
Oranges, skinned and cut-up
Pineapple, cored, peeled and sliced
Watermelon, flesh removed and cut into bite-size pieces,
Melon (cantaloupe & honeydew), flesh removed and cut into bite-size pieces
Instructions
Prepare 1-2-3 Fruit Dressing; set aside until ready to use.


In a large bowl or container, combine all the mixed prepared fruits.


Pour prepared 1-2-3 Fruit Dressing over the cutup fruits; gently toss to coat all the fruit. Serve family style or for a gourmet look, serve in chilled cocktail glasses.

To store, cover and refrigerate for several hours before serving.

1 lime - grated zest (rind) and juice

1 orange - grated zest (rind) and juice


NOTE: Grate the zest off of the citrus fruits first before juicing them.



In a saucepan over medium heat, combine the zest and juice from the lemon, lime, and orange. Add the beaten egg and sugar. Cook, stirring constantly, until mixture comes just to a boil; let boil 1 minute still stirring constantly.

Remove from heat and let cool before tossing with the fruit salad.







Comments and Reviews