This wonderful Provencal Orange and Honey Fruit Salad would make an outstanding first course for your dinner party.
It is really more of a technique than an actual recipe, and there is no need to be too exacting about the measurements.  Feel free to adapt and fiddle according to your whim.  I figure about half to three-fourths of an orange per person and then the rest can be to taste.  I also play around with how to serve this wonderful little salad.  For instance, it makes a fine first course accompanied by a few thin slices of serrano ham or prosciutto.  Other times, I like it on a bed of spinach or arugula as a proper salad course.If you're in the mood for a multi-course extravaganza, a plate of this bright orange salad makes a fine intermezzo.  One of the most unusual, and delicious, pairings is layering the oranges with thick slices of summer's best tomatoes and sprinkling it with sea salt.  And the way I was first introduced to this recipe was as a light summer dessert.
This delicious Provencal Orange and Honey Salad recipe and comments are from Molly Stevens, cookbook author.  The recipe appeared in the Portland Oregonian FOODdaysection of the newspaper on August 2, 2005.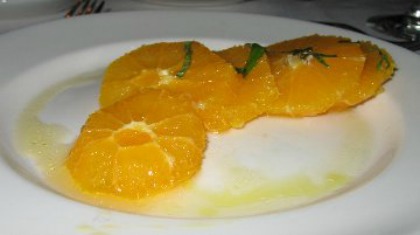 Provencal Orange and Honey Salad Recipe:
Keyword:
Provencal Orange and Honey Salad Recipe
Servings
:
4
to 6 servings
Ingredients
3

large

oranges*

2

tablespoons

honey**

1

lemon,

zested and juiced

3

tablespoons

olive oil,

extra-virgin (or to taste)

Fresh

basil

or mint leaves, cut in chiffonade (thin strips)***
Instructions
Using a sharp knife, cut the top and bottom off the oranges to expose the flesh. Stand the orange upright, cut away the peel, following the contours of the orange and removing all white pith along with the peel. Trim off any bits of white left on the orange.

When all the oranges are peeled, slice them crosswise into approximately 1/4-inch-thick rounds. Put the orange rounds and any collected juices in a shallow bowl or deep-dish pie plate. Pour the honey over the sliced oranges and gently toss with a rubber spatula to coat. Set aside in a cool spot (or the refrigerator if you like) for 1 hour.

Just before serving: Finely grate the lemon zest from the whole lemon; set aside. Arrange the orange slices on a large, shallow serving dish or deep platter, or individual serving plates.

To serve: Squeeze the lemon juice over each serving and then drizzle with the olive oil. Scatter the lemon zest and herbs over the top of each salad, and serve.

For individually plated salads: Pour about 1 1/2 teaspoons of lemon juice on each plate. Drizzle with the olive oil. Scatter the lemon zest and herbs over the top of each plated salad, and serve.

For a platter presentation: Pour 2 tablespoons of juice onto the entire salad platter. Spoon the accumulated orange juice onto the plates or platter. Drizzle with the olive oil. Scatter the lemon zest and herbs over the top, and serve.

Variation Idea: Layer the orange slices with slices of ripe tomato and sprinkle the whole dish with Fleur de sel or sea salt.
Recipe Notes
* If desired, you could substitute blood oranges in this recipe.
** Use a light-tasting liquid honey, such as clover or orange blossom
*** Vary the herb garnish according to how you plan to serve the salad.  Basil is best when it is a first course or salad, while mint suits as an intermezzo or dessert.
Comments and Reviews