Burgundy Salad with Poached Egg Recipe is a classic French salad from Burgundy, France.  This is a perfect lunch salad or served as an appetizer.  Everyone you serve this delightful salad to will want the recipe.
This Burgundy Salad with Poached Egg recipe has been slightly adapted from a recipe from the famous Hotel Barge La Reine Pedauque (a luxury hotel barge that cruises on the Burgundy Canal in France).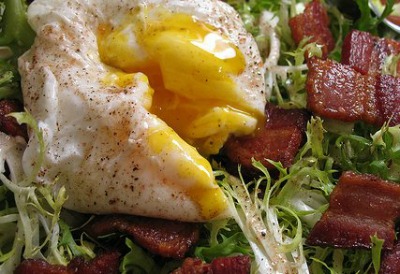 Burgundy Salad with Poached Egg Recipe:
Keyword:
Burgundy Salad with Poached Egg Recipe, Garlic Croutons Recipe, Mustard Vinaigrette Recipe
Ingredients
Burgundy Salad with Poached Egg:
Garlic Croutons:
1/4

cup

olive oil,

extra-virgin

2

cloves

garlic,

crushed

4

thick slices (about 1/2-inch) of

baguette-type bread
Mustard Vinaigrette:
1/4

cup

olive oil,

extra-virgin

1

tablespoon

red wine vinegar

2

tablespoons

Dijon mustard

Coarse salt

to taste

Black pepper,

freshly ground to taste

A little

hot water

1/4

cup

parsley leaves,

chopped
Instructions
Burgundy Salad with Poached Egg Instructions:
Prepare the Garlic Croutons and Mustard Vinaigrette; set aside.

In a large frying pan over medium heat, fry the diced bacon until crispy. Remove bacon pieces and place into a microwavable bowl. Add the sliced mushrooms to the bacon fat and saute approximately 5 minutes; add to bowl with fried bacon; set aside.

How To Poach Eggs - Check out Linda's article on Poached Eggs:

I like to poach my eggs in a wide shallow pan. Use a pan that is at least 3-inches deep so there is enough water to cover the eggs, and they do not stick to the bottom of the pan. Also make sure your pan is wide enough to hold all the eggs you will be poaching, as you don't want the eggs to stick together. NOTE: I like to use a non-stick pan so the poached eggs will not stick to the bottom of the pan.

One at a time, break each egg onto a saucer or into small cups or bowls. Slip eggs carefully into simmering water by lowering the lip of each egg-cup 1/2-inch below the surface of the water. Let the eggs flow out. Do not put too many eggs in the pot at one time. If the yolk breaks as you crack the egg or as you are putting the egg in the water, that egg is a goner. Pull it out and use it for something else or perhaps someone wants scrambled eggs instead.

With a spoon, gently nudge the egg whites closer to their yolks. Immediately cover with a lid and turn off the heat. Do not disturb the egg/eggs once you have put it in the water!

Set a timer for exactly 3 minutes for medium-firm yolks. Adjust the time up or down for runnier or firmer yolks. Cook 3 to 5 minutes, depending on firmness desired. When the eggs are done, lift each poached egg from the water with a slotted spoon, but hold it over the skillet briefly to let any water clinging to the egg drain off. Drain the eggs well.

In the microwave, reheat the bacon and mushrooms mixture for a few seconds. Remove from microwave and divide over the top of each individual salad. Place Garlic Croutons over the top of each salad.

Lay a poached egg over the top of the croutons and pour a little Mustard Vinaigrette over the top. Decorate with slices of tomatoes and serve with fresh crusty bread.

Serve the remaining Mustard Vinaigrette in a small bowl. Serve immediately.
Garlic Croutons Instructions:
Preheat oven to 325 degrees F.

In a small saucepan over medium heat, heat olive oil. Add the garlic and cook 3 to 5 minutes or until the garlic begins to color lightly; remove the garlic and discard. Remove from heat.

Brush the garlic oil on both sides of the bread slices and arrange in a single layer on a baking sheet. Bake 10 minutes; turn bread slices over and bake for an additional 10 minutes. Remove from oven and set aside.
Mustard Vinaigrette Instructions:
In a small bowl or jar, whisk together the olive oil, vinegar, mustard, salt, and pepper. Whisk in a little hot water. Add the parsley; set aside.
Comments and Reviews