Warm German Potato Salad with Beer Dressing is a version of the classic German potato salad is also known as "Kartoffelsalat" and is popular throughout Germany.  A great way to help celebrate Oktoberfest is with this hearty and delicious Warm German Potato Salad with Beer Dressing.  It is so very delicious!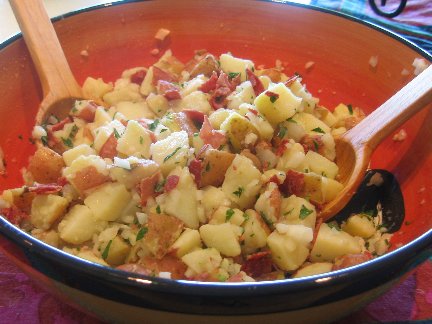 More of Linda's wonderful Salad and Salad Dressing Recipes.
Check out my Old-Fashioned 4th of July Picnic menu (with recipes).
Warm German Potato Salad with Beer Dressing Recipe:
Keyword:
Warm German Potato Salad with Beer Dressing Recipe
Servings
:
4
to 6 servings
Instructions
German Potato Salad Instructions:
In a large pan over medium-high heat, add potatoes and cover with cold water; bring to a boil. Reduce heat and simmer, uncovered, approximately 12 to 15 minutes or until just tender. Remove from heat and drain. NOTE: I usually remove the skins when the potatoes have cooled enough to hold. As soon as you can handle the potatoes, cut the warm potatoes into bite-sized chunks and place in a large mixing bowl.

Fry bacon in a skillet over medium heat until crisp. Remove the bacon and drain on paper towels. Crumble the bacon and then mix with onion, celery, and salt in a small bowl; set aside.

Instead of frying bacon, how about trying Oven-Baked Bacon? This is the way to get perfect crisp bacon without having to constantly turn it, watch over it, or get burnt by splatters of grease. Baked bacon does not curl – you get nice straight bacon pieces every time. This oven technique will solve all your bacon problems and is also especially great when serving a large crowd. Give it a try!

Prepare Beer Dressing. Pour the warm Beer Dressing over the potatoes and mix gently. Add the hard-cooked eggs and bacon mixture; mix gently again. Sprinkle parsley over the top.

This salad may be served warm or at room temperature.
Beer Dressing Instructions:
Melt the butter in a small saucepan over medium-low heat.  Add the flour and stir until blended.  Add the mustard and sugar.  Slowly stir in the beer and Tabasco sauce.

Raise the heat to medium and bring the mixture just to a boil, stirring constantly.  Remove from heat.
Recipe Notes
* Small red potatoes may be substituted.
**  Use pale lager-type beer when preparing the salad, as a darker beer will discolor the potatoes.
Comments and Reviews