Romaine Ribbons with Roasted Garlic Dressing Recipe is a delicious salad with a lot of texture.  It is a salad that celebrates the flavor and texture of the amazing roasted garlic.  It is amazing, but the pungent taste of roasted garlic can add a little extra flavor to everything, even this Romaine Ribbons with Roasted Garlic Dressing Recipe.  Roasting garlic is so easy to do.
I have slightly adapted this Romaine Ribbons with Roasted Garlic Dressing Recipe from the cookbook Everything Tastes Better with Garlic by Sara Perry.
More of Linda's delicious Salad and Salad Dressing Recipes.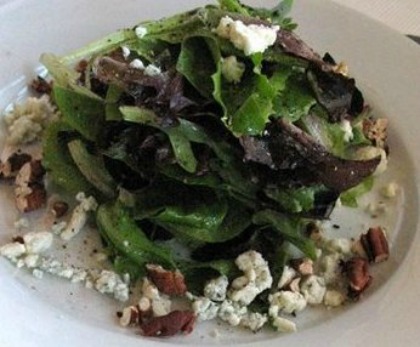 Romaine Ribbons with Roasted Garlic Dressing Recipe:
Keyword:
Romaine Ribbons with Roasted Garlic Dressing Recipe
Ingredients
Romaine Ribbons:
1

large head

romaine lettuce,

coarse leaves removed, remaining leaves rinsed and patted dry

1/4

cup

Blue Cheese,

crumbled

1/4

cup

walnuts

or pecans, coarsely chopped*
Instructions
Romaine Ribbons Instructions:
Prepare Roasted Garlic Dressing; set aside until ready to use.

Stack 6 to 8 romaine leaves at a time and cut crosswise into 1/2-inch-wide ribbons. Place the ribbons into a large salad bowl, drizzle with half the Roasted Garlic Dressing, and toss. Taste, adding additional dressing as desired.

To Serve: Divide the salad among 4 individual salad plates. Garnish each with 1 tablespoon blue cheese and 1 tablespoon walnuts.
Roasted Garlic Dressing Instructions:
Preheat the oven to 375 degrees F.

Peel away the outer layers of skin of the garlic bulb, leaving the skins of the individual cloves intact; leave garlic bulb whole. Using a sharp knife, slice 1/2-inch off of the pointed end of the garlic bulbs, exposing the individual cloves of garlic.

Place the head, root side down, in a small ovenproof dish, garlic cooker, or pan. Drizzle 1 tablespoon olive oil over the exposed tips (if desired, a teaspoon of water can also be added, and so can a sprinkling of salt).

Either cook in a garlic cooker or place on a baking sheet and cover tightly with aluminum foil (this is great for cooking large amounts of garlic). Cover and bake approximately 45 to 60 minutes or until cloves are browned at the exposed end and soft throughout. Remove from oven.

Allow the roasted garlic to cool enough so you can touch it without burning yourself. Reserve the oil from the roasted garlic.

Use a small small knife cut the skin slightly around each clove. Use a cocktail fork or your fingers to pull or squeeze the roasted garlic cloves out of their skins.

Making Roasted Garlic Dressing:

Transfer the roasted garlic to a mini-processor.  Add the rice vinegar, apple cider vinegar, honey, mustard, and pepper; blend until smooth.  Add the olive oil and the reserved garlic oil and blend until combined.
Recipe Notes
*  To toast nuts, heat in a dry skillet over medium heat until they start to brown.  Stir occasionally.  Be careful not to scorch them.
Source: Recipe appeared in The Oregonian newspaper's FOODay, Tuesday, July 12, 2005.
Comments and Reviews