Watercress Tea Sandwich is a very traditional tea sandwich from England.  During Victorian times, watercress was also known as "Poor Man's Bread" because many impoverished people would have access to watercress, but not to bread.
This delightful Watercress Tea Sandwich recipe and photo are from Relish the American Table, June 4, 2006 by Marge Perry.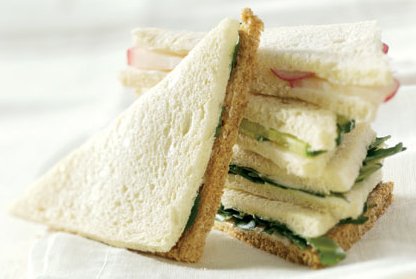 Learn about the History and Legends of Famous Sandwiches.   Also check out my English High Tea Menu.
Watercress Tea Sandwich Recipe:
Keyword:
Watercress Tea Sandwich Recipe
Servings
:
4
whole sandwiches
Ingredients
1

cup

watercress leaves,

cleaned*

1/8

teaspoon

salt

8

very thin slices

white bread**

4

teaspoons

unsalted butter,

softened
Instructions
How To Clean Watercress: Cut off the stems off the watercress leaves with a knife or scissor; either discard or save the stems for making soup. Place the watercress leaves into a colander. Rinse thoroughly with cool water, tossing the watercress with your hands. Fill a large bowl with a solution of 2 tablespoons white vinegar per 2 quarts of cool water. Place the watercress leaves in the water and let soak for 30 minutes. This will remove any dirty smell or taste from the watercress. Pour the watercress into the colander. Rinse thoroughly once more with cool water. Pat dry with paper towels.

In a medium bowl, toss the cleaned and dried watercress leaves with the salt.

Spread one side of each piece of bread with the butter.

Top four (4) of the slices each with 1/4 cup watercress leaves. Arrange the watercress leaves so they hangs very slightly over the edge of the bread. Top with the remaining four (4) bread slices.

Carefully cut the crusts from each sandwich with a long, sharp knife. Cut the sandwiches in half diagonally and then cut in half again. If desired, decorative shapes can be made with cookie cutters.

NOTE: The watercress may be replaced with one cup thinly sliced radishes cucumber, apple, or pear. The butter may be flavored with fresh herbs, and if you like, you can use part whole wheat bread and part white sandwich bread.

Yields 4 whole sandwiches or 8 halves or 16 fourths.
Recipe Notes
*  Watercress (Nasturtium officinale) is an aquatic plant renown for it's vivid green color and unique peppery flavor.
**  Choose the best-quality bread as possible.  Never serve end slices.  Freezing the bread before cutting and then spreading makes for easier handling.
Comments and Reviews