Caramel Sauce is a lot easier to make that you may think it is – You never need to buy prepared caramel sauce again!  This homemade Caramel Sauce is so good that you be licking the spoon.
Do not be afraid of making homemade caramel sauce, as it is easy to do.  Just follow the simple directions below.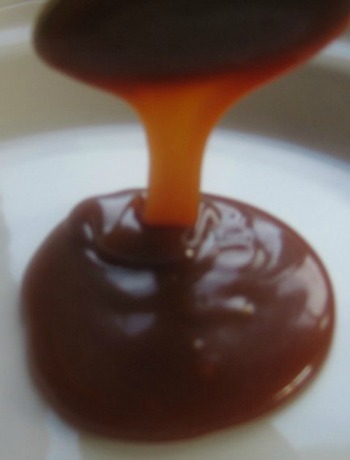 Check out Linda's Butters, Condiments, Sauces, Relish & Jelly Recipes for more great ideas.
Caramel Sauce Recipe:
Ingredients:
6 tablespoons light corn syrup
1/2 cup plus 2 tablespoons granulated sugar
3 tablespoons unsalted butter, cut up into pieces
1/2 cup warm heavy cream
Preparation:
In a heavy saucepan (using a pot that is at least twice the volume of the ingredients will prevent a boil-over) over low to medium-low heat, heat the corn syrup. NOTE: I find that by maintaining a low heat, I have more control over the caramelizing process, as it is really easy to burn.
Stir in the sugar and cook, stirring constantly, until sugar dissolves and mixture just begins to simmer.
After sugar dissolves and syrup is simmering, cook for approximately 9 to 12 minutes, without stirring.  Every so often, hold handle of pan and gently tilt the pan off the heat to distribute color evenly as sugar caramelizes.
When sugar reaches a uniform golden brown (dark amber) color, immediately remove from heat . If using a Candy or Instant Cooking Thermometer, the temperature will be between 350 degrees and 355 degrees F.  NOTE: Once the color is right, it is imperative to prevent the sugar from cooking further, which would make the sauce too bitter.
Photos showing stages of the caramelizing process:
 Stage 1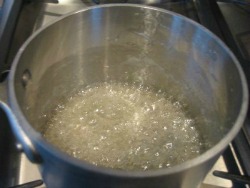 Stage 2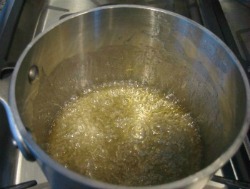 Stage 3
 Stage 4
Stage 5
Warning:  The sugar mixture, when boiling, is really, really hot (hotter than boiling water – over 300 degrees F.).  It will seriously burn if you spill it on yourself.  So be careful!
Off the heat, carefully stir in the butter with a long-handled wooden spoon.  Stir in the cream in a slow, thin stream.  NOTE: This will minimize steam and prevent the caramel from boiling over the sides of the pan.
Transfer the caramel to a heat-proof pitcher and let cool to room temperature.
Flavorings:  Caramel sauce can be flavored with all manner of spices or liqueurs.  Rather than using ground spices, which will turn the smooth sauce gritty, it is best to infuse the cream with whole spices, then strain them out.  Liqueurs, such as triple sec, rum, whiskey, or bourbon, should be added off the heat after the cream has been whisked in to avoid igniting the alcohol.
Storing:  Caramel sauce keeps very well on the counter for at least a week (the amount of sugar is so high that nothing really can grow in it).  Caramel sauce can be refrigerated in an airtight container for up to three weeks or frozen for up to two months.
Reheating:  If the caramel is in a microwave-safe container at room temperature, microwave it on high power for 1 minute, stirring twice.  If cold, it will take a few seconds more.
Comments and Reviews