Milk Gravy is a very easy-to-make gravy recipe that will drive most men crazy!  They love it because their mother used to make it.  
People from the South like to claim it as their gravy, but do not let them fool you.  I am a northern gal (from the Pacific Northwest) and this is also my guy's favorite gravy!  This is the only gravy you want to use when making Biscuits and Gravy.  Just like Mom used to make!  Check out Mom's Biscuits and Gravy recipe, Chicken Fried Steak recipe, and Country Fried Steak recipe.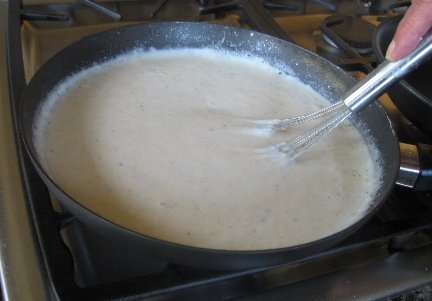 Milk Gravy Recipe:
Keyword:
Milk Gravy Recipe
Instructions
Remove the bacon or sausage once it is cooked and place on a paper towel lined plate to drain. See that brown stuff in the bottom of your pan? That's going to be your gravy!

Using the same frying pan that you cooked your bacon or sausage in, over medium-high heat, combine bacon or sausage dripping and flour; brown flour, stirring constantly with a whisk or fork.

Gradually add the milk or cream, stirring constantly until all is added, and cook until the gravy is smooth and thick. Season to taste with salt and pepper.

Makes enough gravy for 10 to 12 homemade biscuits.
Recipe Notes
*  You can use the drippings/grease from any meat - but bacon and sausage are the traditional ones used and preferred.
Comments and Reviews