I slightly adapted this Anytime Balsamic Shrimp recipe by cookbook author Julee Rosso.  Julee and her husband, Bill, own the Wickwood Inn in Saugatuck, MI.
Julee says, "This Anytime Balsamic Shrimp is one of my all-time favorite dishes, and it could not be simpler.  It began because I brush "tradizionale" (50 to 100 years old) balsamic vinegar on shrimp as we're grilling them.  But only "tradizionale" works for that because it's so extraordinary – commercial balsamic is far too acidic.  And when I am out of the real stuff – I make Faux Aged Balsamic Vinegar – simple enough."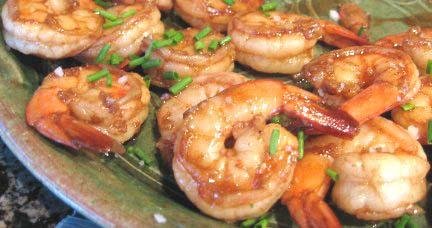 Check out my Appetizer Recipes for more great cooking ideas.  Also check out Purchasing, Deveining, Cooking, Brining, and Etiquette of Shrimp.
Anytime Balsamic Shrimp Recipe:
Keyword:
Anytime Balsamic Shrimp Recipe, Faux Aged Balsamic Vinegar Recipe
Servings
:
4
to 6 servings
Ingredients
Faux Aged Balsamic Vinegar:
Instructions
Anytime Balsamic Shrimp Instructions:
Mix the shrimp with the garlic and olive oil in a bowl and set aside to marinate for half an hour.

Heat a skillet large enough to hold the shrimp and when it's hot, add the butter. When the butter sizzles, add the shrimp. Using a wooden spoon, flip and toss the shrimp around in the skillet over medium to medium-high heat until they just start turning pink. Add any remaining oil and garlic (from marinade in the shrimp bowl); stir well.

Reduce heat to low, add the balsamic vinegar or Faux Aged Balsamic Vinegar, 1 tablespoon at a time, stirring rapidly so it will combine and coat the shrimp. Add an additional 3 tablespoon, one at a time, and continue to cook the shrimp stirring constantly until they are coated with the balsamic glaze and done (1 or 2 minutes), but still springy to the touch.

Remove the shrimp to a serving platter and sprinkle very lightly with the sea salt or coarse salt. Drizzle with the Balsamic Vinegar Glaze and sprinkle with the chopped herbs. Serve immediately.
Faux Aged Balsamic Vinegar Instructions:
Aged Balsamic Vinegar, or as it is known in Italy, tradizionale, accumulates its flavor in a variety of wooden casks for as long as one hundred years. The result is a very concentrated dark brown, thick sweet vinegar, and it is a great luxury. If you do not have it in your pantry - chefs have learned to do as the Italians so - reduce your commercial-grade balsamic vinegar with a little brown sugar. It is a good second.

In a small saucepan over medium to medium-high heat (depending on your stove), let mixture simmer and reduce the vinegar for approximately 4 minutes until thickened and reduce by 1/2. Add the brown sugar and simmer an additional 2 minutes longer.
Comments and ideas from readers:
I just made the Anytime Balsamic Shrimp recipe and it came out quite nicely.  I kicked it up a notch by adding ginger paste and some sesame oil to the marinade and then I threw in some raisins as the shrimp was cooking with the balsamic vinegar – Mike Klein (7/03/08)
Comments and Reviews