Crab and Tomato Napoleon is a very simple, impressive, and gorgeous dish that is a very tasty no-cook summer treat.   
Fresh local crab meat and some fresh vine-ripened local tomatoes from your own garden or local Farmers' Market highlight this Crab and Tomato Napoleon summer dish.  This dish can either be served as a first course or a salad course.  However you serve it, this Crab and Tomato Napoleon dish will definitely impress your family or guests as they look so beautiful and dramatic when served!   I like to serve it with my Classic Vichyssoise Soup or delicious French Onion Soup.
Tomatoes – Fragrance is a better indicator of a good tomato than color.  Use your nose and smell the stem end.  The stem should retain the garden aroma of the plant itself – if it doesn't, your tomato will lack flavor and, as far as I'm concerned, will be good only for decoration!  Remember – If the tomato smells fresh and tomato-y, they will taste that way too!
What is a Napoleon?  Napoleon usually refers to layered or stacked dished, most often pastries.  They are usually made in individual servings sizes.
Check out more delicious Crab Recipes and Tomato Recipes.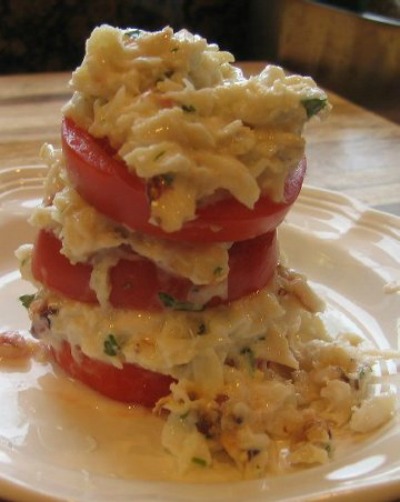 Crab and Tomato Napoleon Recipe:
Keyword:
Crab and Tomato Napoleon Recipe
Ingredients
1/2

cup

sour cream

1

tablespoon

mayonnaise

(best quality)

1/4

cup

lemon juice,

freshly squeezed

2

tablespoon fresh

basil

leaves, chopped

2

tablespoons fresh

chives,

chopped

Dash or two of

hot pepper sauce

(or to your taste)

Coarse salt

and coarsely-ground black pepper to taste

1

pound

crabmeat,

picked over for any shells and cartilage*

4

large ripe beefsteak

tomatoes,

peeled and each cut into 3 or 4 slices**

Olive oil,

extra-virgin (for garnish)
Instructions
In a medium-size bowl, blend together the sour cream, mayonnaise, lemon juice, basil, chives, hot pepper sauce, salt, and pepper. Carefully fold in the crabmeat; cover with plastic wrap and refrigerate for approximately 1 hour.

When ready to serve, divide the crab mixture into fourths.

On four (4) individual serving plates, lay down 1 tomato slice and top with some prepared crab mixture. Repeat the layering with the remaining tomato slices and crab mixture. Drizzle with a little olive oil over the top and around each stack.
Recipe Notes
* Dungeness Crab, Lump crab, or backfin blue crabmeat may be used.  Buy the very best and freshest crabmeat you can afford
Source:  I adapted this recipe the cookbook Crazy For Crab – Everything You Need To Know To Enjoy Fabulous Crab At Home by Fred Thompson.
Comments and Reviews