Herb-Crusted Halibut with Toasted Kale Chips is a quick and easy halibut recipe that also includes delicious roasted kale leaves.  Give this wonderful Herb-Crusted Halibut a try – you will not be disappointed!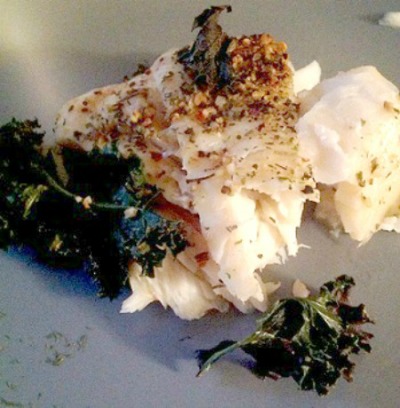 More delicious Halibut Recipes and also How To Select, Buy, and Cook Fish.
Herb-Crusted Halibut with Toasted Kale Chips Recipe:
Keyword:
Herb-Crusted Halibut with Toasted Kale Chips Recipe
Instructions
Preheat oven to 350 degrees F. Line a 11-inch by 7-inch baking pan with aluminum foil.

Wash and dry the kale leaves thoroughly. I spin dry my kale leaves in a salad green's spinner and then also pat dry additionaly with paper towels. Make sure they are dry as possible, as any water left on the kale leaves will cause them to steam rather than crisp in the oven. You do not want this to happen, as they will not crisp up.

Place halibut fillets (skin side down) in the prepared baking pan. Pour the coconut water over the fillet.

In a small bowl, combine pepper, parsley, lemon zest, salt, thyme, and chive; crush or grind together and sprinkle over the fillet.

Bake 15 minutes, uncover and lay the prepared kale leaves over the top of the halibut fillet and continue cooking, uncovered, for approximately 10 additional minutes or until a meat thermometer registers an internal temperature of 140 degrees F. (halibut will be slightly opaque in thickest part). Remember the halibut continues to cook after it is removed from the heat source.

Remove the baked halibut from the oven. Carefully remove the toasted kale leaves and place on your serving plate. Place the cooked halibut fillet on top of the kale leaves and serve.
Recipe Notes
* Coconut water is a thin liquid that is high in potassium and often used as a source of fluid to quench hydration.  It is much lower in calories than coconut milk.  Coconut water can be found in most grocery stores where water is sold.

I get many readers asking what cooking/meat thermometer that I prefer and use in my cooking and baking. I, personally, use the Thermapen Thermometer. Originally designed for professional use, the Super-Fast Thermapen Thermometer is used by chefs all over the world.  I only endorse a few products, on my web site, that I like and use regularly.
You can learn more or buy yours at: Super-Fast Thermapen Thermometer.
Sponsored Content
Comments and Reviews