You can eat these delightful oysters right out of the jar or serve as an appetizer.  They are also delicious served on a bed off crisp greens or mixed with sliced cucumber for a summer salad.
Pickled oysters were very popular in the United States around the turn-of-the-century (late 1800s and early 1900s).  They were especially popular during the Christmas holidays.  New York City and the waters surrounding it were once the richest oyster beds in the world.  New Yorkers, rich and poor, ate obscene numbers of oysters and shipped barrels of fresh and pickled oysters across America and around the world.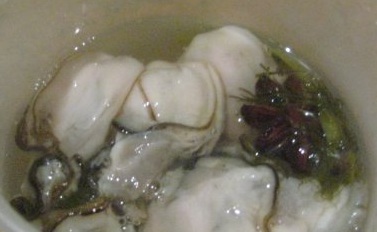 Pickled Oysters Recipe:
Keyword:
Pickled Oysters Recipe
Instructions
Shuck the oysters and put them, along with their liquor, into a sauté pan; simmer over medium heat until they begin to curl around the edges. Using a slotted spoon, remove the cooked oysters and plunge into a bowl of ice cubes and cold water to stop the cooking process; drain the oysters and set aside.

Add peppercorns, salt, mace, wine, vinegar or lemon juice, sherry, and Tabasco sauce to the hot oyster liquor; simmer over low for 10 minutes. Remove pickling sauce from heat and let cool.

Put the cooked oysters into a quart container with a lid, then pour the cooled pickling sauce over.

Cover tightly and refrigerate at least 24 hours before serving to allow flavors to blend.

Will keep in the refrigerator up to 5 days.
Recipe Notes
* Learn How To Shuck Oysters (with photo tutorial).
** I like to use fresh-squeezed lemon juice.
Source:  Original recipe from Mary and Vincent Price's 1969 cookbook Come into the Kitchen Cookbook: A Collector's Treasury of America's Great Recipes.
Comments and Reviews