Minty Grapefruit Sorbet is so smooth and velvety that it makes a delightful refreshing and delicious palate cleanser for your special dinners that is not overly sweet.  The mint seems to perfectly balance the tartness of grapefruit making this a perfect mix of tart and sweet.  It is so cool and refreshing that it will make you think of summer.  No ice cream maker is required for this recipe.
Sorbets are a frozen dessert made from a simple combination of fresh fruit or fruit juice with sugar.  Learn about Legends and Myths of Ices and Ice Cream History.
This recipe has been adapted from Bon Appetit Magazine, November, 1995.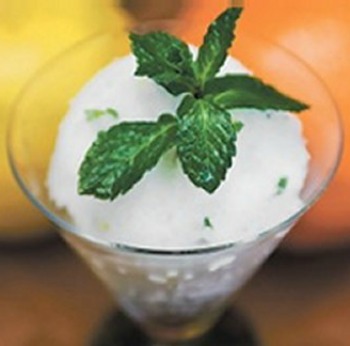 More great Ice Cream, Sorbet, Granita, and Gelato Recipes.
Minty Grapefruit Sorbet Recipe:
Keyword:
Minty Grapefruit Sorbet Recipe
Ingredients
Note: You can usually squeeze approximately 1 cup of grapefruit juice from 1 grapefruit.
Instructions
In a medium saucepan over medium heat, combine sugar, water, and mint leaves. Stir until mixture comes to a boil; reduce heat to low and simmer 5 minutes. Remove from heat, cover, and let stand approximately 10 minutes.

Place a fine strainer over a large bowl and pour the mint syrup mixture through (straining out the mint leaves).

Add grapefruit juice to the strained syrup mixture; stir until thoroughly blended.

Ice Cream Maker - Transfer mixture to ice cream maker, process according to manufacturer's instructions.

Freezer Method - Pour into container, cover, and place mixture in the freezer. When it is semi-solid, mash it up with a fork and refreeze again. When frozen, place in a food processor or blender and process until smooth. Cover and refreeze until serving time.

NOTE: Can be prepared 3 days in advance. Cover and keep frozen.

When ready to serve, use a small melon baller. I like to use 3 scoops per person in a decorative stem glass. A dd mint sprig for garnish and serve.
Source:  Photo of Minty Grapefruit Sorbet from the Arizona Central newspaper.
Comments and Reviews