Lavender Sorbet is a very delicate, refreshing, and sophisticated sorbet that is perfect for your special dinner you will be serving.  Just wait until you taste this sorbet – You will love this delicious sorbet.  The lavender flowers add a beautiful color to the sorbet.   I consider this dessert as absolute perfection! 
I have made and served this Lavender Sorbet at many of my Dinner Parties.   It could be served either as a palate cleanser in between courses or as a dessert.  Once you tasted this delightful sorbet, you will definitely make it many more times.  This is another make ahead desserts that you freeze until ready to serve.
English Lavender (l. angustifolia and munstead) has the sweetest fragrance of all the lavenders and is the one most commonly used in cooking.  The uses of lavender are limited only by your imagination.  Lavender has a sweet, floral flavor, with lemon and citrus notes.  The potency of the lavender flowers increases with drying.
Photo is courtesy of Jeff Shively and his website He Cooks She Cooks.
More great Ice Cream, Sorbet, Granita, and Gelato Recipes.
Please check out my Truffle Dinner Menu which includes this refreshing and beautiful Lavender Sorbet.
Lavender Sorbet Recipe:
Keyword:
Lavender Sorbet Recipe
Servings
:
10
to 12 servings
Instructions
In a medium saucepan over medium heat, combine sugar and water until the sugar dissolves. Add the lavender flowers; stir until mixture comes to a boil; reduce heat to low and simmer 5 minutes. Remove from heat, cover, and let stand approximately 10 minutes.

Place a fine strainer over a large bowl and pour syrup mixture through (straining out the lavender flowers). Add lemon juice and vodka to the strained syrup mixture; stir until thoroughly blended. The vodka (or any other type of alcohol) is the secret to a soft sorbet. Alcohol itself does not freeze and adding a little bit keeps the sorbet from doing the same. Vodka is excellent to use because it doesn't affect the taste.

Ice Cream Maker - Transfer mixture to ice cream maker, process according to manufacturer's instructions.

Freezer Method - Pour into container, cover, and place mixture in the freezer. When it is semi-solid, mash it up with a fork and refreeze again. When frozen, place in a food processor or blender and process until smooth. Cover and refreeze until serving time.

Can be prepared 3 days in advance. Cover and keep frozen.
Recipe Notes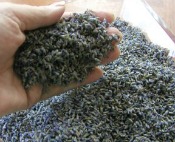 * When using lavender in your cooking, use 1/3 the quantity of dried lavender flowers to fresh lavender flowers.  If you add too much lavender to your recipe, it can be like eating perfume and will make your dish bitter.  Because of the strong flavor of lavender,  the secret is that a little goes a long way.
Learn more about using Culinary Lavender.  Also learn more about Edible Flowers.
Comments and Reviews