Mint Julep Sorbet is definitely a treat for all the mint julep fans – so refreshing and so delicious!  This sorbet is a great way to surprise and please your family and friends at a Kentucky Derby Day party as this sorbet is so refreshing on a hot summer day.
Derby Day in Kentucky – Did you know that the Mint Julep Cocktail is the official drink of the Kentucky Derby?  To the people of other states and the uninitiated, this phrase has little meaning.  But lovers of horse racing all over the country thrill at the mention of these words.  For the Kentucky Derby is the most important horse race of the world.  Thousand of visitors come to Louisville just for the event on the first Saturday of May.
More great Ice Cream, Sorbet, Granita, and Gelato Recipes.
Mint Julep Sorbet Recipe:
Keyword:
Mint Julep Sorbet Recipe
Instructions
In a medium saucepan over medium heat, combine sugar, water, and mint leaves, stirring just until the sugar dissolves; increase heat and bring to a boil. Remove from heat and pour into medium bowl and refrigerate until cold, approximately 2 hours.

Strain mint syrup through sieve set over a bowl, pressing on mint leaves. Discard mint leaves. Mix bourbon, creme de menthe into mint syrup.

Ice Cream Maker - Transfer mixture to ice cream maker, process according to manufacturer's instructions.

Freezer Method - Pour into container, cover, and place mixture in the freezer. When it is semi-solid, mash it up with a fork and refreeze again. When frozen, place in a food processor or blender and process until smooth. Cover and refreeze until serving time.

Serve in parfait glasses that have been placed in the freezer for approximately 1 hour. Garnish with mint sprigs and serve immediately. NOTE: Traditional silver mint julep cups or parfait glasses add a nice accent at serving time.

NOTE: Can be prepared 3 days in advance. Cover and keep frozen.
Sources:  Mint Julep Sorbet photo from Fine Living Television.  Adapted from a recipe from Bon Appetit Magazine, August 1996.
Learn how to make the famous Mint Julep: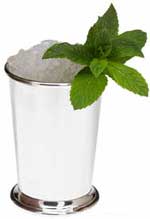 This wonderful refreshing drink comes to us from Kentucky.  It is always made with fresh mint, bourbon, and plenty of crushed or shaved ice.  Traditionally Mint Julep is served at the Kentucky Derby and served in silver or pewter mugs.
I have tried several recipes and I found that I like making a mint syrup first.  According to some Southerners, a Mint Julep is the not the product of a formula, but a ceremony.  They say a Yankee can't make one properly.  Since I'm a Yankee, you be the judge!
Sources:  Mint Julep Sorbet photo from Fine Living Television.  Adapted from a recipe from Bon Appetit Magazine, August 1996.
Don't have an ice cream maker? You can buy some nice counter-top size ice cream makers from Amazon – affiliate link.

Comments and Reviews