Crock Pot Recipe – Slow Cooker Recipe 
Chicken and Dumplings is an easy to make comfort food recipe shared by our family friend, Tacy Parker.  When Tacy serves this dish made in her crockpot, there are never any leftovers!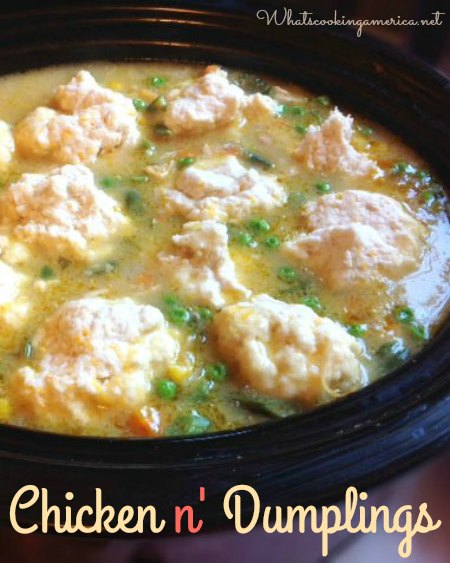 Tacy says, "This Crock Pot Chicken and Dumplings recipe one of my standby camping meals.  When we camp in our trailer, I like to use my crockpot. I love this recipe because it is so simple and it seems to be the top request from my camping buddies."
It is easy to modify, as well as to add or remove ingredients as you feel like it.  It cooks up like a stew, so cut your veggies into the size of chunks you like best (I like mine pretty hearty).  I have added optional instructions if you prefer to make homemade creamed soup and biscuits.
Chicken and Dumpings gets it's origins from the South, going all the way back to the Civil War years during the 1860's. Being cut off from imported goods in the North, food was scarce for both plantation owners and poor farmers.  Out of necessity, a whole chicken could be stretched into two meals when made with either drop biscuits or thick noodle style dumplings. Chicken and Dumplings have remained well loved and became a popular Southern Sunday dinner during the 19th century. Chicken and Dumplings came back into food-stretching necessity again in the South during the 1930's depression era when hard economic times hit again.
More of delicious Soup, Stew, and Chili Recipes.
Chicken and Dumplings Recipe:
Keyword:
Slow Cooker Chicken and Dumplings Recipe
Ingredients
1 1/2

pounds

chicken breast

or thighs, cubed

1

medium

onion,

finely diced

2

potatoes,

peeled and chopped into chunks

3

(10.5-ounce) cans

Cream of Chicken Soup*

1

(14 to 15-ounce) can

chicken stock

or broth

Salt

and pepper to taste**

2

carrots,

peeled and chunked

2 to 3

celery

stalks, chopped

1

cup

peas,

frozen (or 1 small bag)

1

package

Buttermilk Biscuit Dough,

chunked***
Instructions
Preheat the crockpot/slow cooker.

Add to the preheated crock pot, the cubed chicken, onion, potatoes, cream of chicken soup, chicken broth, salt, and pepper.

Cover the crockpot with the lid and cook approximately 1 hour on high heat. After an hour, turn the crock pot down to low heat and add the carrots and celery; cook approximately 4 additional hours. If you need to be away from the house all day, throw everything in the crockpot (except for frozen peas and biscuit dough) and cook on low for 8 hours.

Once the chicken, potatoes, and carrots are soft and tender, add and stir in the frozen peas and salt and pepper to taste.

Place the raw (uncooked) biscuit dough, in a single layer, on the top of the ingredients, and then cover with the lid. DO NOT STIR. For best results, the casserole should be bubbly hot before adding the biscuit dough.

Let the biscuits cook for about 15 to 20 minutes or until biscuit dough is completely cooked.

Turn the crock pot off and let sit, with the lid off, until the casserole cools to an edible temperature.

Serve in individual soup bowls and enjoy!
Recipe Notes
* See Bechamel Sauce - Basic White Sauce for variation instructions to make your own cream of chicken soup.
** Can substitute Johnny's Seasoning for Salt and Pepper.
*** To make your own dumplings, mix 2 cups Bisquick baking mix with 2/3 cups of milk.  Stir together until combined.  If needed, add a little extra milk for dough to clump together and be slightly tacky to touch.  Makes about 10 dumplings.
Reference: The Baltimore Sun, "Southern Comfort Once working-class, chicken and dumplings are now just classy", March 10, 1993, by Kim Pierce
Comments and Reviews