Cioppino (pronounced chuh-PEE-no) is considered San Francisco's signature dish, and no trip to this West Coast city would be complete without a bowlful of this delicious Cioppino seafood stew.  Because of the versatility of the ingredients, there are numerous recipes for it.  Cioppino can be prepared with a dozen different kinds of fish and shellfish.  It all depends on the day's catch of your personal choice.
You will not believe how easy it is to make this Cioppino.  The key to this recipe is experimentation.  Be creative with this fish stew: Leave something out, or substitute something new.  Serve cioppino with a glass of your favorite wine and hot sourdough bread.
History of Cioppino:  This fish stew first became popular on the docks of San Francisco (now known as Fisherman's wharf) in the 1930s.  Cioppino is thought to be the result of Italian immigrant fishermen adding something from the day's catch to the communal stew kettle on the wharf.
The origin of the work "cioppino" is something of a mystery, and many historians believe that it is Italian-American for "chip in."  It is also believed that the name comes from a Genoese fish stew called cioppin.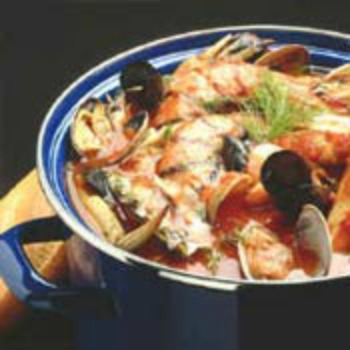 Please check out my San Francisco Cioppino Dinner Menu and Taste of California Dinner (Cioppino Dinner) using this delicious Cioppino Seafood Stew recipe.
San Francisco Cioppino Recipe:
Keyword:
San Francisco Cioppino History, San Francisco Cioppino Recipe
Servings
:
8
to 10 servings
Ingredients
3/4

cup

butter

2

medium

onion,

chopped

3

cloves

garlic,

minced

1

bunch

parsley

leaves, minced

2

(14.5-ounce) cans

plum tomatoes,

undrained and cut up*

2

(8-ounce) bottles

clam juice

2

bay leaves

1

tablespoon

basil

leaves, dried

1/2

teaspoon

thyme

leaves, dried

1/2

teaspoon

oregano

leaves, dried

1 1/2

cups

dry white wine

(or red, whichever you prefer)

12

small

hard-shell clams

in shell

12

mussels

in shell

1 1/2

pounds extra-large

shrimp,

raw, peeled and deveined**

1 1/2

pounds

bay scallops

1 1/2

pounds

fish fillets

(halibut, cod, or salmon), cut into bite-size chunks

1 1/2

cups

Dungeness crab meat,

flaked

Salt

and freshly-ground pepper to taste
Instructions
In a large soup pot or cast-iron Dutch oven over medium-low heat, melt butter; add onions, garlic, and parsley. Cook slowly, stirring occasionally, until onions are softened. Add tomatoes, clam juice, bay leaves, basil, thyme, oregano, and red or white wine; bring just to a boil, then reduce heat to low; cover, and simmer approximately 45 minutes to 1 hour. If sauce becomes too thick, thin with additional wine or water.

NOTE: At this point, stock may be refrigerated, covered, up to 2 days before using. To use stock that has been refrigerated, reheat to boiling and then reduce heat to low, until broth is simmering gently.

Scrub clams and mussels with a small stiff brush under cold running water; remove beards from mussels. Discard any open clams or mussels. Cover with cold salted water; let stand 5 minutes and then pour off the salted water.

Gently stir in the clams, mussels, shrimp, scallops, fish fillets, and crab meat to the prepared stock. Cover and simmer 5 to 7 minutes until clams pop open and shrimp are opaque when cut. NOTE: Do not overcook the seafood (the seafood continues to cook after it is removed from the pan). Remove bay leaves; season with salt and pepper to taste.

Remove from from heat and ladle broth and seafood into large soup bowls and serve.
Recipe Notes
* To easily cut up the tomatoes, use a sharp knife and cut through the tomatoes while still in the can.
** To add additional flavor, place the shells of the shrimp in a saucepan and cover with water.  Simmer over low heat approximately 7 to 10 minutes. remove from heat and strain the broth; discarding shells.  Add shrimp broth to soup broth.
Comments and Reviews