Fresh Corn Off The Cob Soup is truly delicious – especially chilled.  This is a easy to make and delicious soup that features fresh corn from the cob!  Everyone that I have served this wonderful Fresh Corn Off The Cob Soup has loved it and wanted the recipe.
If you love corn, you will love this Fresh Corn Off The Cob Soup recipe.  Enjoy the fresh sweetness of summer corn in this easy to make and so perfectly delicious corn soup.  Remember that beak-of-season corn is essential when making this soup.  Now if you are just finding this recipe and it is winter, just save the recipe until your local fresh corn is available.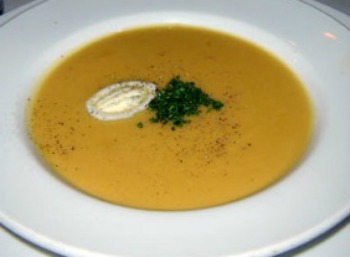 Fresh Corn Off The Cob Soup Recipe:
Keyword:
Fresh Corn Off The Cob Soup Recipe:
Ingredients
8

cups fresh

corn

kernels (cut from 14 to 16 ears of corn)*

6

cups

water

1

tablespoon

coarse salt

Whole milk

Sour cream

(optional garnish)

1/4

cup

chives,

fresh, chopped
Instructions
Purchasing fresh corn - Fully ripe sweet corn has bright green, moist husks. The silk should be stiff, dark and moist. You should be able to feel individual kernels by pressing gently against the husk. Fresh corn, if possible, should be cooked and served the day it is picked or purchased.

In a large pot with salt in the water, simmer corn, covered, 20 minutes, or until very tender. Remove from heat.

In a blender or food processor, pur soup in batches until very smooth (use caution when blending hot liquids). As each batch is pureed, pour through a coarse sieve, pressing on solids, into a bowl.

In a large saucepan, heat soup, stirring. Thin soup to desired thickness with whole milk. Soup may be served hot or chilled.

Serve topped with a dollop of sour cream and sprinkled with chives.

Soup may be made 3 days ahead and cooled, chilled, covered, and refrigerated.

Makes 6 servings (about 7 cups).
Recipe Notes
*  Two medium ears of corn equals approximately 1 cup corn kernels.
Comments and Reviews