New Orleans Gumbo has been called the greatest contribution of Louisiana kitchens to American cuisine.  It is the quintessential dish of New Orleans with many versions of it.   It is one of the representative dishes of the people who settled in New Orleans and one that can by found at restaurant, special events. homes through all the state of Louisiana.
It seems there are as many different recipes for gumbo as there are cooks in the state.  There are no other hard-and-fast rules for the ingredients used in making gumbo  – anything that flies, crawls, creeps, or lies still may end up in the gumbo pot.  There are as many recipes for gumbo as there are cooks in Louisiana.  The making of gumbo draws out the competitive streak in most Louisianans, and most cooks closely guard their recipes.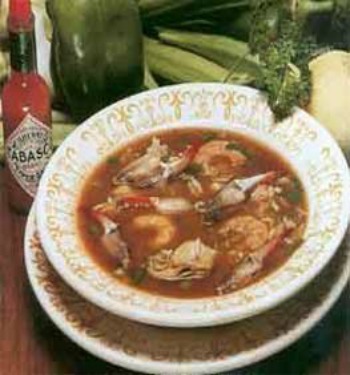 Photo courtesy of City of St. Martinvill, Louisiana.
History of New Orleans Gumbo:
The word gumbo is derived from African words for okra  (guingombo, tchingombo, and kingombo), a pod-like vegetable introduced by African slaves and often used to thicken the stew.  Gumbo is a classic Cajun one pot, communal stew that is especially important around Mardi Gras.
When the first French settlers came to Louisiana, they brought their love for bouillabaisse, a highly seasoned fish stew.  Having none of the usual ingredients necessary to make a typical French bouillabaisse, they substituted local ingredients.  After about a century, with the Spanish, Africans, and Natives of the region offering their contributions of food, the stew was no longer recognizable as bouillabaisse and became gumbo.  What started out as second best became better than the original.  Check out the History and Legends of Gumbo.
What is Roux? There is only one rule that remains constant in making gumbo:  First you make a roux.  The roux, a flour and oil or butter mixture, which acts as a thickening agent, is the gumbo's base.
Courir de Mardi Gras
In some rural areas of Louisiana, masked and costumed horseback riders participate in what is called the Courir de Mardi Gras, which means "run of Mardi Gras."  Routes can be as long as sixty miles, and the riders  may visit as many as thirty households.  They ride up to a farmhouse along the route to ask permission for the group to come up to the house.  When permission is granted, the riders charge toward the house, where they sing, dance, and beg until the owner offers them an ingredient for making their gumbo.  Often the owner will throw a live chicken into the air that the riders will chase, like football players trying to recover a fumble.
Today, people come from all over to watch the riders start their Courir de Mardi Gras.  They also are there to greet the riders after the run and to help cook a large gumbo with the food that was collected.  The festivities end promptly at midnight, the beginning of Lent.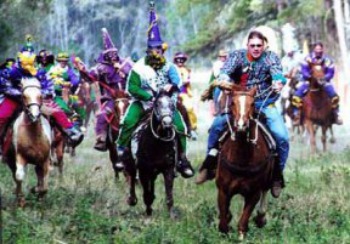 Courir de Mardi Gras photos courtesy of the web site Mardi Gras in Rural Acadiana,
published by the University of Southwestern Louisiana's Center for Louisiana Studies.
New Orleans Style Gumbo Recipe:
Leo Neil of Crosby, Texas generously shared this fantastic New Orleans Gumbo recipe with me. Leo says, "I am very passionate about New Orleans traditional cooking and it's a shame to what culinary level the mighty gumbo has sunk. I always try gumbo in restaurants and I have been to some of the best, but they NEVER get it right."
Keyword:
Cajun Gumbo Recipe, New Orleans Style Gumbo Recipe
Ingredients
Gumbo:
1

pound

okra,

sliced

2

tablespoons

vegetable shortening

3

tablespoons

butter

1

onion,

chopped

1/2

cup

celery,

chopped

1

pound

shrimp,

fresh, peeled and deveined*

1

jar fresh

oysters

(check for shells)

2

cloves

garlic,

chopped fine

1

tablespoon

green bell pepper,

chopped

1

(10.5-ounce) can

tomatoes

2

sprigs

parsley,

chopped

1

bay leaf

(remove before serving)

2

teaspoons

Cavender's Greek Seasoning** 

2

quarts

water

or fish stock

1

bunch

green onions,

chopped

1/2

pound

crab meat

or 1 dozen whole crabs***

Salt

and pepper

Long-grain

white rice,

cooked and still hot

Crackers

1

teaspoon

File Powder

(optional)****
Instructions
Gumbo Instructions:
Start making the Roux (see below recipes).

In a large frying pan, fry okra in 2 tablespoons shortening approximately 30 to 40 minutes or until it ceases to "rope" (slimy strings connecting the okra); remove from heat and set aside. NOTE: Take your time and do not burn it. It is worth the trouble.

In a Gumbo Pot or a large Dutch Oven over medium-high heat, melt the butter and fry the onions and celery about 5 minutes or until soft.

Add the garlic, and bell pepper; simmer 2 minutes. Add tomatoes, parsley, bay leaf, Cavender's Seasoning, water or fish stock, green onion, fried okra, prepared Roux, and crab meat or crabs. Add salt and pepper to taste. Let gumbo simmer for approximately 30 minutes. Just before you are ready to serve, add the shrimp and oysters. Cook approximately another 6 to 8 minutes - just until the shrimp turn pink and are done.

Serve with hot rice, crackers, and file on the side.
Roux Instructions:
Many New Orleans recipes start with "First you make a roux." A roux is a cooked mixture of flour and a cooking fat that is used to thicken sauces, stews, and gravies. The richness of dark colored roux adds both flavor and color to the finished gumbo.

Always use equal amounts of oil and flour when making roux. Remember this simple rule when increasing the amount of roux made. A large gumbo would benefit from a full cup of oil combined with a full cup of flour.

Roux may be made 1 week ahead, cooled completely, and chilled, covered. Roux also freezes well.

Stovetop Roux: The old-fashion method for making roux.

In a heavy skillet (I like to use my Cast-Iron Skillet) over medium heat, heat vegetable shortening or oil until hot.

Add flour gradually, stirring or whisking to combine with the shortening or oil.

After adding all the flour, reduce heat to low and cook, stirring frequently, about 45 to 60 minutes or until roux is dark brown (the color of peanut butter) and has a nutlike odor (it will be very thick and pasty).

NOTE: This process takes some time, depending on how high the heat on your stove is. The slower, the better, but be ready to remove skillet from the heat and stir more rapidly if the roux appears to be burning. It is suggested that you keep stirring until the roux is relatively cool. When done, immediately remove from heat and set aside.

Carefully transfer it into your stockpot and start making gumbo.

Micrwave Roux: A quick and easy method for making roux.

You will also want to use the largest bowl you have that can fit into the microwave because as it cooks, the roux expands.

Cook the oil on high for 10 minutes.

Stir in the flour, then continue to microwave at a medium setting, in 3-minute increments, stirring each time, until the roux is dark brown (the color of peanut butter).

NOTE: Each microwave is different so you will have to determine if you need to cook your roux for another minute or two.

Carefully transfer it into your stockpot and start making gumbo.
Recipe Notes
* In New Orleans they sell what are called "gumbo shrimp."  They are not the big shrimp that you use in a "stand alone" shrimp dish. They are used more for flavor than texture. I guess you could put some of the shrimp in early for the simmering and some later for the presentation. Some people in New Orleans even boil the shells and heads to get that serious shrimp flavor. I don't care for it myself; it has that "low tide" taste!
** If you can't find Cavender's Greek Seasoning, you can substitute another brand of seasoning salt. but Cavender's is the best.
*** If using whole crabs, scald live hard-shelled crabs and clean, removing the spongy substance and the "sand bag" on the under part. Break off and crack the claws and cut the body in half.
**** Gumbo is also thickened with File Powder, made from ground dried leaves of the sassafras tree. File powder must be stirred into gumbo after it's removed from the heat because undue cooking makes the powder tough and stringy.
Comments and Reviews