Strawberries in Lemon-Lavender Syrup is so elegant and so sophisticated!  Plus the Lemon-Lavender Syrup is also to mix with a summer fresh fruit salad.  To me, there is nothing that says "Hello Summer" quite like eating and enjoying fresh ripened strawberries.
More information about Strawberry Hints, Tips, and Information and more Strawberry Recipes.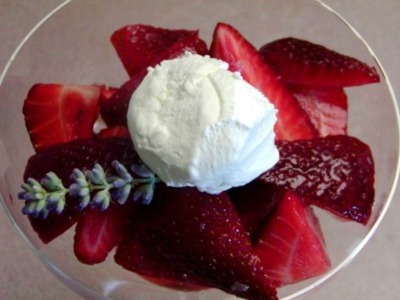 Strawberries in Lemon-Lavender Syrup Recipe:
Keyword:
Strawberries in Lemon-Lavender Syrup Recipe
Instructions
Rinse and drain strawberries. Hull and cut into halves or quarters into a large bowl; set aside.

Remove the green caps (stems) with a light twisting motion or with the point of a paring knife. It's as easy as a twist of the wrist. You can also purchase a strawberry de-stemmer/huller at your local kitchen store or online (see photo on left).

In small saucepan over low heat, combine water, lemon juice, sugar, and lavender. Let simmer, stirring occasionally, for about 3 minutes or until sugar is dissolved and lavender is infused. Remove from heat and strain the syrup, discarding the blossoms.

Pour strained syrup over strawberries and toss gently to mix. Serve berries and syrup right away in pretty glass bowls or stemmed glasses. Garnish with whipped cream, if desired.

Note: You can prepare the syrup in advance and let it cool. Toss with berries just before serving.
Recipe Notes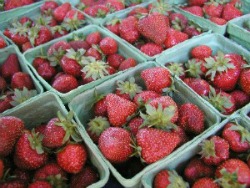 *  Strawberries - Naturally the best strawberries are the ones you pick yourself from your local strawberry fields or purchase from your local produce stands and/or Farmers' markets.  In the stores, always choose locally grown strawberries during the harvesting season (they are sweeter and juicier than those that are bred for shipment).  Remember, your local strawberry season only lasts 3 to 4 weeks.
When purchasing berries from the grocery store, shop with your nose.  Always pick the plumpest and most fragrant berries.  They should be firm, bright, and fresh looking with no mold or bruises, and fresh green caps (stems).  The caps should be bright green, fresh looking and fully attached.  Berries should be dry and clean; usually medium to small berries have better eating quality than large ones.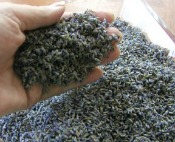 **  Lavender - In cooking, use 1/3 the quantity of dried lavender flowers to fresh lavender flowers.  The key to cooking with lavender is to experiment; start out with a small amount of flowers, and add more as you go.  Adding too much lavender to your recipe can be like eating perfume and will make your dish bitter.  Because of the strong flavor of lavender, the secret is that a little goes a long way.
Sources:  Strawberries in Lemon-Lavender Syrup recipe by Chef Revsin of Driscoll Strawberry Associates.  Photo by Rita of Edison, NY.  Photo appeared on the Food.com blog.
Comments and Reviews