The peak of summer means homemade Blackberry Crisp with the debut of plump, juicy blackberries popping up all over farmer's and local markets.  Blackberries  are at their season's best for ripeness filled with sweet bursts of anti-oxidant juice!  The seeds make for a healthy dose of fiber, essential for your body's needs and well being.
This delicious Blackberry Crisp recipe, comments, and photos were shared with me by Sue Robinson, culinary writer for the Grocery Examiner.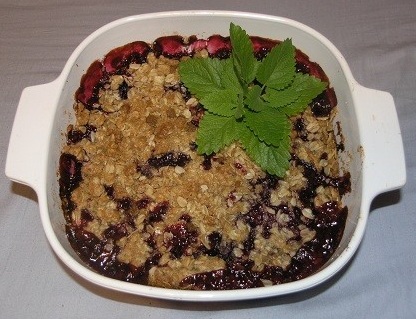 Blackberry Crisp with Sweet Sour Cream Recipe:
Keyword:
Blackberry Crisp with Sweet Sour Cream Recipe
Ingredients
2

cups fresh or frozen

blackberries

(fresh berries are best)

1/4

cup granulated

sugar

(demera sugar, agave sweetener, and/or Splenda works well)

2

teaspoon

corn starch

(2 tablespoons tapioca starch balls also works well)

1/4

teaspoon

salt

1

teaspoon ground

cinnamon

1

cup

old-fashion oats

1/2

cup all-purpose

flour

1/2

cup

butter,

room temperature

1/2

cup (firmly-packed)

brown sugar

(light or dark is fine)

1/2

cup

sour cream

1

teaspoon

pure vanilla extract

2

tablespoons granulated

sugar
Instructions
Preheat oven to 350 degrees F. Position oven rack to center of the oven. Lightly butter a baking dish.

Place blackberries into prepared baking dish. Add the sugar, corn starch, salt, and cinnamon; mix together lightly.

In a bowl, place oats, flour, butter, and brown sugar. Mix together well using either a fork or your bare hands (clumps are good). Place topping mixture over the top of the blackberries.

Bake for 45 minutes until bubbly hot! Remove from oven and allow to set and cool on a wire rack for 20 minutes (if it lasts untouched by family, you're lucky).

In a bowl, make the topping by whisking together the sour cream, vanilla extract, and sugar.  Refrigerate until ready to serve.

Serve either warm or room temperature.  To serve, top with either chilled sour cream mixture or vanilla ice cream (your choice).  Enjoy! Makes 4 servings.

Optional:  Add diced apples, peaches, and/or raspberries and combine with blackberries.  You can add whatever seasonal fruit you have.  Also, homemade granola will work great as a topping in lieu of oats, flour, and sugar mixture before baking.
Comments and Reviews