Truffle Custard with Crab and Caviar appetizer is infused with  truffle oil and garnished with caviar – plus the wonderful crab in the custard recipe.  So beautiful and so delicious!  The addition of sensual truffle oil takes this truffle custard to new heights, as caviar seems to take everything dish it is use on to a new level of excellence!
This is another great make ahead appetizer recipe that is easy to make.  Use this delicious Truffle Custard with Crab and Caviar recipe as either a first course or appetizer dish for your next upcoming dinner party.  I like to use Oregon's outstanding and wonderful Dungeness Crab, but you should use the local crab from your area,  Egg Custards are always a favorite "comfort food" that seems to win the hearts of everyone.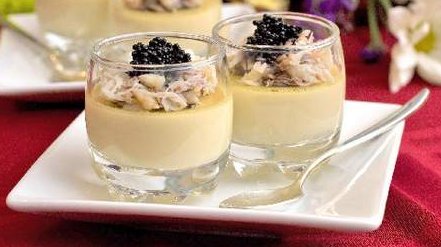 Truffle Custard with Crab and Caviar Recipe:
Keyword:
Truffle Custards with Crab and Caviar Recipe
Instructions
Preheat the oven to 325 degrees F. Adjust oven rack to center position.

Arrange 12 shot glasses in a 9-by-9-inch baking pan. Bring a kettle of water to a low simmer over low heat.

Meanwhile, in a medium bowl whisk together the eggs, egg yolk, and truffle oil; set aside.

In a small saucepan over medium heat, combine the cream, milk, and soy sauce. Bring just to a boil, stirring constantly; remove from the heat and let cool 1 minute. Whisking constantly, slowly pour the hot cream mixture into the eggs. Immediately strain the mixture through a mesh strainer into a large liquid measuring cup (or other container or pitcher with a pouring spout).

Carefully pour the strained custard mixture into the shot glasses, filling them about 3/4 full. Carefully pour enough hot water from the kettle into the baking pan to reach halfway up the shot glasses. Cover the pan with aluminum foil and bake approximately 9 to 10 minutes or until a knife inserted near the center comes out clean (the custards should be firm at the edges and just barely wobbly at the center). If needed, cook another 1 to 2 minutes.

Remove from oven and immediately remove cups from the water bath. Let cool at room temperature until ready to serve.

While the custards cook and cool, prepare the crab mixture. In a small bowl, gently mix together the crab, chives, and lime juice. Season with salt and pepper to taste.

To serve, spoon a small amount of the prepared crab mixture over each custard, then top with a dollop of caviar.
Source:  Recipe adapted from Brad Farmerie, executive chef at Monday Room wine bar in New York.  Photo from The Associated Press, January 23, 2008
Comments and Reviews