Stove Top Method – Slow Cooker Method:
My friend, Andra Cook of Raleigh, NC is famous for serving this delicious North Carolina barbecue bean recipe. She is also the co-author of our What's Cooking America cookbook.
These wonderful tasting beans are always a favorite at any gathering. Andra's Barbecue Beans Recipe seems to be a favorite of most men – in fact it is a killer barbecue bean dish! Even people who say they do not like lima beans, love this bean dish. I usually double this recipe for our large gatherings and potlucks. I have provided instructions to cook on the stove top or slow cooker.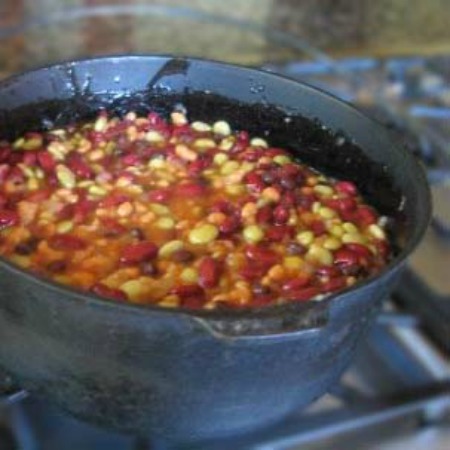 Please check out my Old-Fashioned 4th of July Picnic menu which includes this wonderful Andra's Barbecue Beans.
Andra's Barbecue Beans Recipe:
Keyword:
Andra's Barbecue Beans Recipe
Ingredients
1

medium

onion,

finely chopped

1

clove

garlic,

minced

1/2

cup

butter

1/4

cup

cider vinegar

1/2

cup

sugar

(granulated)

1

tablespoon

prepared mustard

1

teaspoon

Worcestershire sauce

3/4

cup

catsup

(ketchup)

Salt

to taste

2

(16-ounce) can

pork and beans,

drained and rinsed

2

(15 1/4-ounce) can

red kidney beans,

drained and rinsed

1

(14 1/4-ounce) can

lima beans,

drained and rinsed*
Instructions
Stove Top Instructions:
Preheat oven to 350 degrees F.

In a large frying pan, saute onion and garlic in butter. Stir in cider vinegar, sugar, prepared mustard, Worcestershire sauce, catsup, and salt; cook and stir 1 to 2 minutes or until well blended. Remove from heat.

In an ungreased large casserole dish or Dutch oven, combine the pork and beans, kidney beans, and lima beans. Pour the prepared catsup mixture over top and mix well.

Bake, uncovered, 1 hour. Remove from oven and serve.
Slow Cooker Instructions:
Prepare the beans in the morning as per the above stove top recipe.

Place in your slow cooker, over low heat, for approximately 6 to 8 hours.

Enjoy these awesome easy-to-make beans.
Recipe Notes
*  You may substitute other types beans of your choice, such as canned pinto beans, black beans, and/or white kidney beans.
NOTE:  Depending on my mood and my guests, I sometimes add some red wine and also some diced jalapeno Chile Peppers (be careful not to add too many chiles).
Comments and Reviews