Delicata Squash Rings make an easy and healthy appetizer.  Stack them up and pass the napkins, serve as a side dish, or add them as an attractive garnish to your dinner dishes.  Yes, you can eat the skin of the delicata squash – it is delicious!
Serve these delicious Squash Rings in place of fried potatoes or onion rings.  This way you are cutting the calories and serving healthy snacks to your family.
Learn about Squash Hints, Tips, and Information, and more delicious Squash Recipes.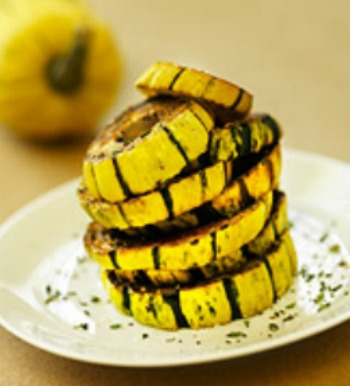 Delicata Squash Rings Recipe:
Keyword:
Delicata Squash Rings Recipe
Servings
:
4
to 6 servings
Instructions
Preheat oven to 425 degrees F. Have on hand two (2) parchment-lined large rimmed baking sheets.

With a long paring knife, cut the squash into 1/2-inch-thick rounds. Note: If you want crispy like "chips" then slice the rings thinner. Then cut around the centers of the rounds to remove the seeds. Discard seeds.

Place the squash rounds on the baking sheets. Pour the butter and olive oil over the rings. Turn the rings so they're coated on both sides. Sprinkle with salt and pepper.

Arrange the Delicata squash rings so they do not overlap on the baking sheets. Bake approximately 20 to 30 minutes or until they are golden brown and tender when pierced with a fork. Remove from oven.

To serve, stack the rings on individual serving plates or a large platter, sprinkle with salt and thyme, and serve at once.
Recipe Notes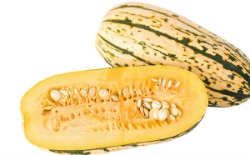 * Delicata Squash is also known as Peanut squash and Bohemian squash.  This is one of the tastier winter squashes, with creamy pulp that tastes a bit like corn and sweet potatoes.  Size may range from 5 to 10 inches in length.  The squash can be baked or steamed.  The thin skin is also edible.
Choose squash that have a hard, deep-colored rind free of blemishes or moldy spots.  Tender skin indicates immaturity or poor quality as the hard skin protects the flesh and allows it to store longer than summer squash.  Store Delicata Squash in a cool, preferably dark, well-ventilated area for up to one month.  Photo courtesy of Modern Farmer.
Sources:  Recipe by Sheryl Julian and Julie Riven.  Photo Jim Scherer.  Recipe and photo appeared in the Boston Globe newspaper, October 22, 2006.
Comments and Reviews