Cauliflower Rice is a rice substitution that is so amazing, surprising delicious, very easy to make, low calorie, gluten free, and diabetic friendly.   It can be eaten as a side alone or as a base for dishes like stir-fries or curries.  My husband was actually pleasantly surprised how delicious it is.  Enjoy this simple and satisfying recipe for low-carb cauliflower rice.  Eat alone as a side dish or use as a rice substitute to help make your meal low carb.
I am not sure where this idea comes from for making cauliflower rice, as there are many different versions of the recipe on the internet. Thank you to the person who first came up with this recipe!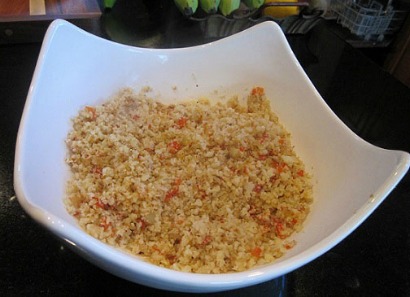 For more great Low Fat Recipes, Low Calorie Recipes, Low Carbohydrate recipes, and Diabetic Recipes, check out my Diet Recipe Index.  Also check out my Nutritional Chart for fat grams, fiber grams, and calories for all your favorite foods.
Cauliflower Rice Recipe:
Keyword:
Cauliflower Rice Recipe
Instructions
Wash, remove core and leaves, trim, and coarsely chop the cauliflower. Also make sure there are no brown or black spots on it. If so, remove with a paring knife. Chop the fresh cauliflower into small florets or pieces small enough to fit into the food processor. Make sure that the cauliflower pieces are completely dried before using.

In a large frying pan over medium heat, heat olive oil. Add onion and saute approximately 10 minutes or until soft. If adding other diced vegetables, add with the onions.

Place cauliflower florets in bowl of food processor in batches. Process until evenly chopped but not completely pulverized. Do not over process, as the cauliflower can get mushy - you want a rough chop that has the texture of rice.

Raise the heat to medium-high. Add the prepared cauliflower rice to the cooked onions in the frying pan. Cover and cook approximately 5 to 6 minutes, stirring frequently, until the cauliflower is slightly crispy on the outside but tender on the inside (similar to "al dente" pasta). Season with salt and pepper to taste.

Remove from heat and serve.
Recipe Notes
* Season as you would any rice dish.  I added some diced sauteed red bell pepper and onions.
Nutrition Facts
Cauliflower Rice Recipe:
Amount Per Serving
Calories 76
Calories from Fat 14
% Daily Value*
Fat 1.5g2%
Carbohydrates 9.7g3%
* Percent Daily Values are based on a 2000 calorie diet.
Cauliflower Rice Variation Ideas:
Also great used as "rice" in soups and stews and as side dish in place of rice or curry.  Great served with chicken, seafood, and a side salad.  Be creative!
Curried Cauliflower Rice:  Add 1 tablespoon turmeric or curry powder.
Herbed Rice:  Add 1/4 cup of fresh basil, parsley, cilantro, green onion, and/or other herbs of your choice.
Chinese Fried Rice:  After frying the cauliflower rice, push the cauliflower to one side of the pan.  Pour in one (1) beaten egg into the empty part of the pan and lightly scramble the egg.  Then mix the scrambled egg and cauliflower "rice" together.  If desired, add a little soy sauce to the mixture.
Rice Salad:  After frying and cooling, mix in some chopped cucumbers and tomatoes.  Season lightly with some oil and vinegar.
Spanish Rice:  After cooking the cauliflower, add an 8-ounce can of chopped tomatoes and a little hot sauce (to taste).  Can also add some sauteed diced green pepper and garlic.
Vegetable Rice:  Add your favorite diced vegetable; saute with the onions.
Lemon Rice:  Add some lemon zest and lemon juice.
Comments and Reviews