Garlicky Accordion Potatoes are an American version of the Swedish baked potatoes known as Hasselback Potatoes, Potato Fans, and also Accordion Potatoes. This recipe looks like a very fancy potato side dish, but making this Garlicky Accordion Potatoes is actually very easy to do.  Definitely a unique way to serve potatoes!
This recipe is from the Junior League of Charlotte, North Carolina cookbook called Dining By Fireflies – Unexpected Pleasures of the New South.  Photo courtesy of Betty Crocker web site.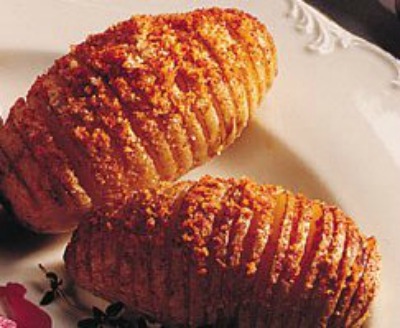 Learn about Potato Hints, Tips, and Information, Sweet Potato Tips, History of Potatoes.
Garlicky Accordion Potatoes Recipe:
Cuisine:
American, Swedish
Keyword:
Garlicky Accordion Potatoes Recipe
Instructions
Preheat oven to 375 degrees F. Oil a large shallow glass baking dish.

Rinse and scrub the potatoes thoroughly before using. Peel the potatoes.

Place prepared potatoes on a cutting board and cut a narrow slice from the bottom of each potato; discard the slice (the potato will lay flat and not roll). Place two long handled wooden chopsticks on each side of the potato lengthwise. Use a sharp knife and slice each potato crosswise, making 1/4-inch apart slices, cutting down vertically. The chopsticks will prevent the knife from cutting entirely through the potato. As you peel the potatoes, drop them into the cold water to prevent discoloring. NOTE: Potatoes may be prepared in advanced to the above point. Place potatoes in cold water (to prevent discoloring) until ready to bake. To bake, dry potatoes well.

In a shallow bowl or pan, combine butter, olive oil, and garlic. Roll potatoes in butter mixture.

Place potatoes in prepared baking dish. Pour remaining butter mixture over potatoes. Season with salt and pepper.

Bake potatoes, basting frequently until tender and golden, about 60 to 70 minutes. Potatoes are done when the internal temperature registers approximately 200 degrees F. on your cooking thermometer.

To serve, sprinkle with Parmesan cheese just before serving.
Recipe Notes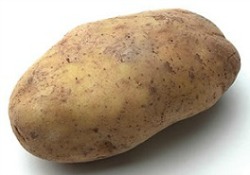 *  When shopping for potatoes, look for potatoes that are firm and smooth.  Avoid potatoes with wrinkled or wilted skins, soft dark areas, cut surfaces, and those that are green in appearance.  
If you need several potatoes for your recipe that you are making, choose ones that are similar in size for even cooking.

I get many readers asking what cooking/meat thermometer that I prefer and use in my cooking and baking. I, personally, use the Thermapen Thermometer. Originally designed for professional use, the Super-Fast Thermapen Thermometer is used by chefs all over the world.  I only endorse a few products, on my web site, that I like and use regularly.
You can learn more or buy yours at: Super-Fast Thermapen Thermometer.
Sponsored Content
Comments and Reviews