Green Beans with Toasted Hazelnut Vinaigrette recipe is so easy to make using either fresh or frozen green beans.  Makes a great holiday vegetable dish to serve your family and friends!  Green beans are also called string beans and snap beans.  Green beans were once called string beans – today's green beans have no strings.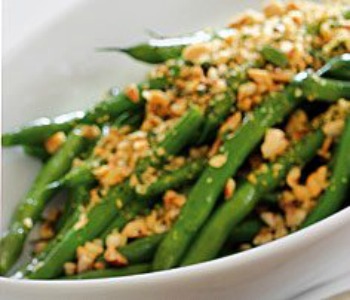 Green Beans with Toasted Hazelnut Vinaigrette Recipe:
Keyword:
Green Beans with Toasted Hazelnut Vinaigrette Recipe
Ingredients
2/3

cup

hazelnuts

(about 3 ounces), coarsely chopped*

Water

1 1/2

pounds fresh

green beans,

ends trimmed*

1/4

cup

butter,

room temperature

2

teaspoons

unseasoned rice vinegar

Coarse salt

or sea salt

Black pepper,

coarsley-ground
Instructions
Place hazelnuts in small nonstick skillet. Stir over medium heat until lightly toasted, about 8 minutes. Sprinkle with salt and set aside.

Wash fresh green beans thoroughly in clear, cool water. Lift beans from the wash water and leave garden debris behind. Rinse again.

Break off the end (the top and tail) as you wash them. Leave whole or cut into desired lengths. Green beans can be cooked whole, cut crosswise, diagonally or French-cut. If you want sweet tasting, crisp fresh beans, cut them as little as possible. Cut older, more mature green beans in the French style. Make sure all the pieces are similar in length so they cook evenly.

In a medium saucepan over medium-high heat, bring water to a boil. Add the prepared green beans and partially cook for 4 to 5 minutes (depending on the degree of doneness you want). Important To Remember: The greens beans will continue to cook after you remove them from the heat source. Take them out just before they are cooked the way you like.

Remove from heat, drain the beans in a colander, and immediately immerse them in an ice water bath to stop from cooking; drain and set aside.

Melt butter in same pot over medium-high heat. Add beans and rice vinegar; toss to coat and heat through, about 2 minutes. Season with salt and pepper.

Transfer to serving platter. Sprinkle with hazelnuts and serve.
Recipe Notes
* If you absolutely can not find hazelnuts, you may substitute another nut of your choice.
** Learn different easy and delicious way of cooking green beans.  Also includes lots more favorite green bean recipes.
Comments and Reviews