Grilled Corn on the Cob with Lime and Chile recipe is a delicious Mexican-style grilled corn.  This delicious corn on the cob recipe is great for everyone, even picky eaters.  This is the best way to serve corn on the cob, brushed with melted butter and sprinkled with chili powder, cotija cheese and lime juice!  So good that it will be a big hit with everyone you serve it to!
Grilled Corn on the Cob is a popular menu item for barbecues and clambakes, and it's easy to do. Grilled corn on the cob is not only tasty, but grilling your corn never fails to impress your guests. Grilled Corn is especially delicious when you add herbs and spices to the ear of corn before grilling it. The herbs and spices liven up the flavors and add an interesting spin on basic roasted corn.  Plus it is so easy to do!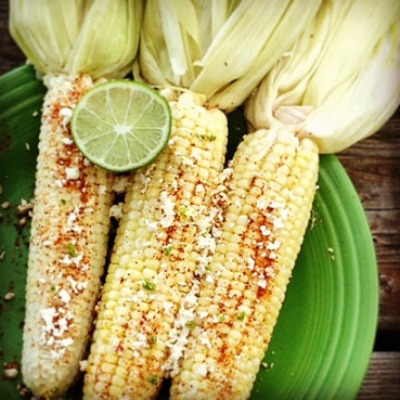 Click here to find out about Corn Hints, Tips, and Information and here for more great tips on How To Grill Corn On The Cob.  Check here for more of Linda's great Corn Recipes.
Grilled Corn on the Cob with Lime and Chile Recipe:
Keyword:
Grilled Corn on the Cob with Lime and Chile Recipe
Ingredients
Fresh ears of

corn,

husk and silk removed*

Butter

1

tablespoon

lime juice,

freshly-squeezed

Chile powder

or paprika (optional)

Coarse salt

and freshly-ground black pepper

Cotjita cheese

or feta cheese, crumbled
Instructions
Remove outer husks from corn, leaving inner pale green husks attached. Fold back the inner husks and then remove as much of the corn silk that you can. Re-wrap inner husks around the corn. NOTE: For less fuss, feel free to fully husk the corn and wrap it in aluminum foil.

Preheat barbecue grill with rack approximately 4 inches from the fire. Lightly oil the grill.

Grill the prepared corn until the husks are charred and beginning to pull away and corn is tender, turning frequently, about 8 to 10 minutes. Remove from heat.

Pull husks away from corn to expose kernels. Place corn and lime on platter. Brush with butter and then squeeze lime juice over each corn on the cob and sprinkle with some chile powder or paprika. Salt and pepper to taste and sprinkle crumbled Cotilla cheese over the corn.
Recipe Notes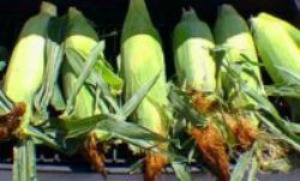 *  Fully ripe sweet corn has bright green, moist husks.  The silk should be stiff, dark and moist.  You should be able to feel individual kernels by pressing gently against the husk.  As soon as corn is picked, its sugar begins is gradual conversion to starch, which reduces the corn's natural sweetness.  Corn will lose 25% or more of its sugar within 25 hours after harvesting it.  Fresh corn, if possible, should be cooked and served the day it is picked or purchased.
Source:  I slightly adapted this Grilled Corn on the Cob with Lime and Chile recipe by Molly Stevens.
Comments and Reviews