Grilled Sweet Bell Peppers is one of the easiest side to make.  Not only are they full of flavor, but they also add an element of vibrant color to the plate.  Grilled Sweet Bell Peppers are easy to make and so flavorful!
More of Linda's delicious Sweet Bell Pepper Recipes.
Please check out my Outdoor Smoked Salmon Dinner Menu which includes these wonderful Grilled Sweet Bell Peppers.
Grilled Sweet Bell Peppers Recipe:
Keyword:
Grilled Sweet Bell Peppers Recipe
Instructions
Cut each pepper into halves. Core, seed, and rinse peppers. In a large resealable plastic bag, place sweet pepper halves.

In a small bowl, combine garlic, salt, olive oil, balsamic vinegar, and pepper; mix well and then pour over pepper chunks. Reseal bag and shake to distribute sauce. Let sweet peppers marinate in the sauce for at an hour, turning the bag every so often to distribute the marinade.

Remove peppers from sauce. Place peppers, smooth-side down, on oil-sprayed hot grill. Cook 6 to 8 minutes (turning occasionally) or until lightly charred on both sides. Watch carefully so the peppers do not overcook.

Remove peppers from grill. Either leave in chunks or slice into 1/2-inch-wide strips. Arrange chunks or strips on a platter, alternating colors. Sprinkle with crumbled feta cheese.

Can be served either hot or cold.
Recipe Notes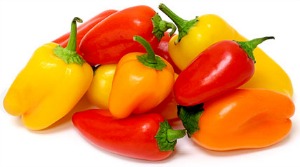 *  These small, thumb size peppers measure about three inches tall and have a crisp texture. They are sweet and have very few seeds, so they produce very little waste.  Mini Sweet peppers are thinner-skinned than larger peppers and their texture withstands grilling and cooking.
If you can not find baby bell peppers, use large peppers with stem end cut off and seeds removed.  The skins of the these baby or mini peppers are thinner than the larger variety so they absorb the marinade really nicely. Photo of bell peppers from Specialty Produce.
Comments and Reviews