Roasted Sweet Onions with Mint  are an outstanding side dish that will add pizazz to any dinner! A great summer side dish that I have cooked them part way in the oven and then finished them on the barbecue.
Learn about Onion Hints, Tips, and Information.
Roasted Sweet Onions with Mint Recipe:
Keyword:
Roasted Sweet Onions with Mint Recipe
Instructions
Preheat oven to 350 degrees F.

Cut onions in half from top to bottom.

In a medium bowl, combine olive oil, garlic, salt, pepper, and mint leaves. Smear mixture all over the onions; place in a small baking dish.

Bake for 30 minutes. Baste with the juices. Continue roasting for another 20 to 30 minutes or until onions are tender when pierced with a fork. Remove from oven.

Place onions on a serving platter or individual serving plates.
Recipe Notes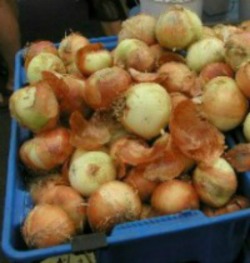 *  Some U.S. sweet and mild onion varieties (available in the spring/summer) have a similar sugar content (or sometimes even less sugar) than the storage varieties.  Naturally, we do not always taste that difference due to both water and sulfur content present in a raw onion; however, we can often taste those differences when onions are cooked!
Look for sweet onions that are light golden-brown in color, with a shiny tissue-thin skin and firm, tight, dry necks. (Ordinary storage onions are darker and have a thicker skin.) When cut into, sweet onions should have a creamy white interior. Avoid onions that have soft spots or surface bruises.
Sweet onions are often named by geographic origin and described as being sweet. The best known are: Vidalia from Georgia, Walla Walla from Washington, Maui from Hawaii, Imperial from California, Carzalia from New Mexico, The Texas Spring or Supersweet from Texas, and OSO Sweets from Chile, South America.
Source: Recipe was adapted from the cookbook called The Best of Thymes by Marge Clark.
Comments and Reviews