Roasted Potato Wedges with Lemon are a very delicious and easy-to-make Greek style of cooking potatoes.  The addition of fresh lemon juice send them to a new level that is so good in this recipe.  Crispy on the outside, fluffy on the inside with a delicious lemony flavor.  Very lovely and crispy with a great lemon flavor that everyone loves!  Very few people can resist these potatoes – they are that good!  Be sure and prepare enough for seconds.  These potatoes are a hit at our house!  You could also roast these in a foil pan on your barbecue grill for about 30 to 40 minutes.
These Roasted Potato Wedges with Lemon are wonderful accompanying roast lamb, chicken, or served on their own as these potatoes are marinated simply with lemon juice, garlic, and olive oil, then baked in the oven.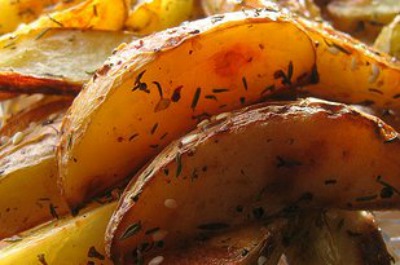 Roasted Potato Wedges with Lemon Recipe:
Keyword:
Roasted Potato Wedges with Lemon Recipe
Instructions
Preheat oven to 350 degrees F. Spray a 13 x 9-inch baking pan with not-stick spray or lightly oil the pan (your choice).

Scrub the potatoes well, but do not peel them. Cut potatoes lengthwise into thick wedges and place in the prepared baking pan.

In a small bowl, whisk together water, lemon juice, olive oil, garlic, salt, oregano, and pepper; pour over potatoes, turning to coat evenly.

Bake approximately 40 to 60 minutes (depending on the size of your potato wedges), gently turning occasionally to keep potatoes well moistened, or until potatoes are very tender and moist, and most of the liquid has evaporated. The potatoes will be a nice and golden brown all over.

Remove from oven and serve.
Recipe Notes
*  To cook this dish using small potatoes, I suggest that you halve them, because they taste best when they can absorb more sauce.
Comments and Reviews