Duchess Potatoes, also known as Pommes de Terre Duchesse, are a simple pureed potato dish that makes a very elegant presentation.  In fact, Duchess Potatoes are a great way to take a dish like mashed potatoes from home-style to high-class without much effort!  Your guests will ooh and ahh at the beautiful swirls of potatoes.
The classic French recipe are cooked potatoes that are blended with egg yolks, butter, and cream, and then piped into a decorative shape and baked.  This is an easy-to-make dish that looks fancy.  All you need to do is place prepared mashed potatoes into a piping or pastry bag and pipe the mashed potatoes onto a baking sheet in any shape you like.
Serve with beef tenderloin for an impressive dinner to serve your family and friends.  Also serve with the classic Pork Crown Roast for your next holiday meal.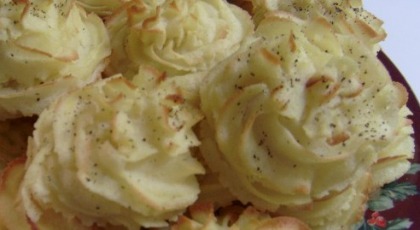 Learn about Potato Hints, Tips, and Information, Sweet Potato Tips, History of Potatoes.
Duchess Potatoes Recipe:
Keyword:
Duchess Potato Recipe, Pommes de Terre Duchesse
Servings
:
6
to 8 servings
Ingredients
7

cups

potatoes

(Yukon Gold or Russet), peeled and cut into 1 1/2-inch chunks*

3/4

cup

half & half cream,

warmed and divided

7

tablespoons

butter,

room temperature

1 1/2

teaspoons

salt
Instructions
In large saucepan, add cut-up potatoes and just enough cold water until potatoes are covered; bring to a boil. Reduce heat to medium; cover and let simmer 15 to 20 minutes or until potatoes are tender when pierced with a fork. Potatoes are done when the internal temperature registers approximately 200 degrees F. on your cooking thermometer.

When the potatoes are cooked, remove from heat and immediately drain potatoes thoroughly in a colander. Return to saucepan; heat over medium-low heat approximately 1 to 2 minutes to dry potatoes, stirring occasionally.

NOTE: Boiled potatoes left in water will start to jellify and may even increase in volume, becoming swollen and watery. That is why it is important to let the potatoes drain for a couple of minutes in a colander immediately after they are cooked.

Mash potatoes with a potato masher or ricer (do not use your electric mixer) until they are smooth and free of chunks. For the smoothest, most uniform texture, use a food mill or ricer to mash the potatoes.

Add 1/2 cup half and half cream, butter, egg yolks, and salt. Mix thoroughly to blend. You do not want the mashed potatoes to be too soft or they will not hold their shape when baked. Slowly add remaining 1/4 cup half and half cream to the potatoes (you may not need to use all the half and half cream - the potatoes should be stiff).

Either spoon or pipe onto parchment-lined baking sheets leaving 2 inches between mounds.

To Pipe, place a large star tip in pastry bag and fill bag with potato mixture. Pipe circular or rectangular shapes onto parchment-lined baking sheet. Continue piping until baking sheet is full. When piping, start from the outside and slowly work your way to the middle, overlapping a little each time around to create the mound and point in the middle.

If you do not have a pastry bag, cut a diagonal slit one inch from the point on corner of plastic bag. Carefully spoon the potato mixture into bag. Squeeze the air out of bag as your seal. to pipe the mixture, hold the filled bag perpendicular to the baking sheet, then force the potato mixture through the top by squeezing the end of the bag with your writing hand and supporting the bag with your other hand.

Alternate designs: (1) Pipe into decorative mounds in lightly greased muffin cups. (2) Shape into rosettes.

Some chefs simply shape the mashed potatoes into a mound with a spoon and then use a fork or similar instrument to shape the edges.

To bake later: Loosely cover with plastic wrap and refrigerate until ready to use. Recipe can be prepared to this point, covered and refrigerated, up to 24 hours. Remove plastic wrap and spray lightly with vegetable oil spray before baking.


When ready to bake, preheat oven to 450 degrees F. Place baking sheet on middle rack in oven. Bake for 15 to 20 minutes or until tops are lightly browned. NOTE: The size of the duchess potatoes and the desired level of crispiness on the edges will indicate the amount of time that they should be baked.
Recipe Notes
* Choose potatoes of the same size so that they cook evenly.

I get many readers asking what cooking/meat thermometer that I prefer and use in my cooking and baking. I, personally, use the Thermapen Thermometer. Originally designed for professional use, the Super-Fast Thermapen Thermometer is used by chefs all over the world.  I only endorse a few products, on my web site, that I like and use regularly.
You can learn more or buy yours at: Super-Fast Thermapen Thermometer.
Sponsored Content
Comments and Reviews