Sauteed Green Beans and Potatoes is a quick, yummy, and healthy side side dish to serve your family and friends.  This is that kind of down-home vegetable side dish that brings out the best of fresh green beans and potatoes.  These green beans and potato dish pares easily with any grilled or roasted meat, especially chicken and beef.  Makes a great summer vegetable side dish.
Recipe and photo courtesy of the Potato Goodness Unearthed.  I slightly adapted this recipe.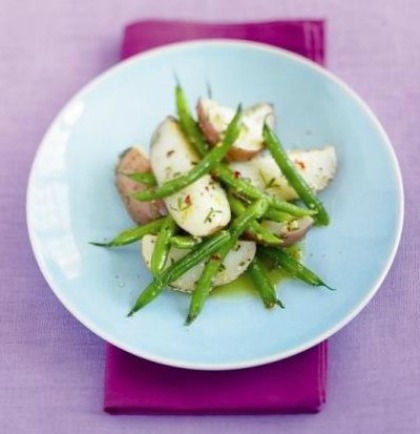 Find out about Potato Hints, Tips, and Information, History of Potatoes.
Learn about Green Bean Hints, Tips, and Information and more great Green Bean Recipes.
Sauteed Green Beans and Potatoes Recipe:
Keyword:
Sauteed Green Beans and Potatoes Recipe
Instructions
In a large saucepan over medium-high heat, add potatoes to the water. Bring water just to boil; reduce heat to medium, cover, and cook until tender, approximately 12 to 15 minutes. Remove from heat; drain off the water and let cool. When potatoes are cool enough to handle, quarter potatoes lengthwise. Set aside.

In large frying pan, heat olive oil; add garlic and let sizzle for 30 seconds. Add rosemary, lemon zest, and chili flakes; let sizzle until fragrant. Add cooked potatoes and blanched green beans; saute just until vegetables are hot and coated with seasonings. Sprinkle with lemon juice and season with salt.
Recipe Notes
* When shopping for potatoes, look for potatoes that are firm and smooth.  Avoid potatoes with wrinkled or wilted skins, soft dark areas, cut surfaces, and those that are green in appearance.  When selecting the potatoes for this, choose new potatoes for boiling and salads. They have thinner skins and are firmer.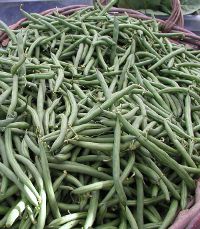 ** Boiling or Blanching Green Beans:  This term means to plunge foods into boiling water for a few seconds or a few minutes, then remove and place in ice water. This process sets the color of vegetables. The green beans do not cook all the way through, so crisp texture is preserved.
How To Blanch Green Beans: In a large saucepan over medium-high heat, bring water to a gentle boil.  Add trimmed green beans and cook, uncovered, 4 to 5 minutes or until crisp-tender (you may need to experiment with the degree of doneness you like).  Immediately drain the green beans in a colander and plunge them into ice cold water to bring the temperature down.  A rule of thumb is the beans should spend as much time in the cold water as in the hot.  You can also use a steamer basket.
Comments and Reviews