Asiago & Sage Scalloped Potato recipe is my family's favorite scalloped potato recipe.  This is the most delicious scalloped potato recipe you will have ever tried.  I especially like to make and serve these scalloped potatoes during the holidays to serve with our Prime Rib dinner.  In fact, this is a non-negotiable part of our Christmas dinner.  I know that this scalloped potato recipe will become one of your family favorites to make every year.  Rich and savory scalloped potatoes that you will want to make again and again!
Asiago cheese is a hard cheese with a slightly sharper flavor than Parmesan cheese.  If you can not find Asiago, substitute aged Parmesan Cheese.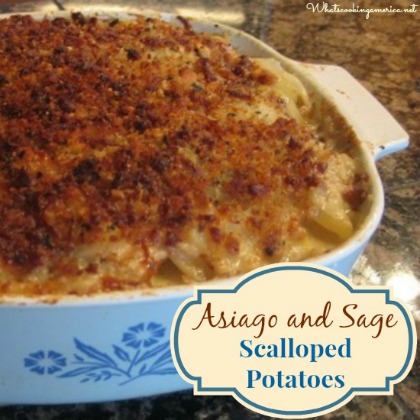 Learn about Potato Hints, Tips, and Information, Sweet Potato Tips, History of Potatoes.
Please check out my Lamb Roast with Port Wine Sauce dinner menu, Prime Rib Dinner Menu, and Honey-Glazed Ham Easter dinner menu which includes this fantastic gourmet Asiago and Sage Scalloped Potatoes.
Asiago & Sage Scalloped Potato Recipe:
Keyword:
Asiago & Sage Scalloped Potato Recipe
Ingredients
3

tablespoons

butter

2

medium-size

onions,

thinly sliced

3

cloves

garlic,

minced

2

bay leaves

1/4

teaspoon

nutmeg,

freshly-grated

1 1/4

tablespoons

salt,

divided

1

teaspoon

pepper,

freshly-ground, divided

1 1/4

cups

heavy cream

1/2

cup

milk

1

cup (about 3 ounces)

Asiago

or Parmesan cheese

1

cup plain

bread crumbs,

dried

2

tablespoons

olive oil,

extra-virgin

2 1/2

tablespoons

sage

leaves, finely-shredded, divided

2 1/2

pounds medium-size

Russet potatoes,

peeled and sliced 1/8-inch thick*
Instructions
Preheat oven to 400 degrees F. Adjust oven rack to middle of the oven.

Peel potatoes and slice into approximately 1/8-inch thick slices. If you have an mandoline slicer, this is the perfect time to use it - otherwise use a sharp knife. You want your potato slices to be as even as possible.

In a large heavy saucepan over medium heat, melt butter. Add sliced onions and cook, stirring, until golden or approximately 8 minutes. Add garlic, bay leaves, nutmeg, 1 tablespoon salt, and 3/4 teaspoon pepper; cook for 30 seconds. Add cream and milk; bring just to a boil. Remove from heat, cover, and let stand for 5 minutes. After 5 minutes, remove the bay leaves from the onion mixture and stir in 2 tablespoons sage; set aside.

In a bowl, toss the Asiago or Parmesan cheese with the bread crumbs, olive oil, 1/2 tablespoon remaining shredded sage, 1/4 teaspoon salt, and 1/4 teaspoon pepper. Set aside.

In a large bowl, place the sliced potatoes; add prepared onion mixture and toss gently.

Spread 1/2 of the potato-onion mixture in a 2-quart baking dish; sprinkle 2/3 cup of the cheese/bread crumb mixture over the top. Cover with the remaining potatoes and press firmly to pack them down. Spoon the remaining liquid over the potatoes and cover with remaining cheese/bread crumbs.

Bake approximately 1 hour or until the potatoes are tender and the top is golden (scalloped potatoes are done when potatoes are tender but hold their shape when portioned). If the potatoes brown too quickly, loosely cover the dish with aluminum foil.

Make Ahead Tips: The dish can be assembled up to 4 hours ahead, covered with a tight lid or aluminum foil, and refrigerated. Let sit at room temperature, covered, while the oven heats. NOTE: If potatoes are not covered completely, they are going to make contact with air and, while cooling, they will slowly begin to get a dark color.

Once cooked, you can keep the cooked scalloped potatoes, covered, in a warm oven for up to 1 hour before serving. Re-warm in the oven before serving, if necessary.
Recipe Notes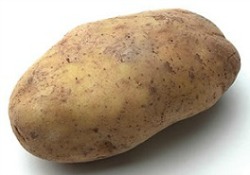 *  Russet baking potatoes are the preferred.  Avoid using "new potatoes", redskins, or any other high moisture potato.  Russet potatoes have a high starch content and bake well.  They also make top-quality mashed potatoes.  Russet potatoes are often called Idaho potatoes after the state that leas in their production.  Choose potatoes that feel firm and not spongy.  Avoid those with eyes or dark spots, which are a sign of age.
Source:  I slightly adapted this Asiago & Sage Scalloped Potato recipe is from Food and Wine Magazine, November, 1995.  Recipe by Sanford D'Amato, chef and co-owner of Sanford Restaurant in Milwaukee, Wisconsin.
Comments and Reviews