Southern Cream Corn is a terrific dish to serve your family and friends – so make it in the summer while fresh corn is in season – never resort to that canned stuff again!  When fresh corn is not in season, you may then substitute frozen corn.  This recipe is creamy corn goodness. 
Southern creamed corn incorporates bacon as a key ingredient to flavor the corn and uses a heavier cream.   It is a great side dish to enjoy when fresh corn is in season and also works great served at a holiday meal.  Everyone seems to enjoy this Southern creamed corn!
Creamed corn finds its origins in the American Midwest before becoming popular in the rest of the country.
My daughter made this recipe for her family.  She said her family could have made a whole meal just from the corn alone!  It was plate licking good!  She found some recipes variations that incorporate cream cheese as a cheaters' method of making cream corn, but decided that making the white sauce would be a more traditional and flavorful way to go.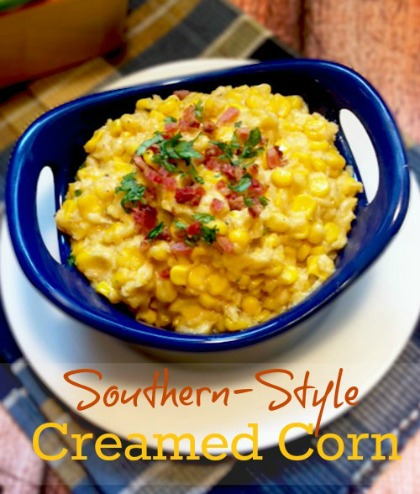 If you love creamed corn, also try out this Midwestern version of Iowa Corn Au Gratin.
Click here to learn about Corn Hints, Tips, and Information and here for more great tips on How To Grill Corn On The Cob.  Also check out more of Linda's great Corn Recipes.
Southern Creamed Corn Recipe:
Keyword:
Southern Creamed Corn Recipe
Servings
:
4
to 6 servings
Ingredients
8

ears of fresh

corn

or 1 (32-ounce) bag of frozen corn (about 4 cups)*

3 to 4

strips of

bacon

3

tablespoons

butter

3

tablespoons

flour

(all-purpose)

1

teaspoon

salt

1

tablespoon

sugar

(granulated)

1

cup

heavy cream**

1/2

cup

milk

1/4

cup

Parmesan cheese

Salt

and pepper to taste

Parsley,

chopped (for garnish)
Instructions
If using fresh corn, scrape the corn kernels from the ears of corn by using a sharp kitchen knife and a large cutting board. Cut off the stem end to give a flat base. Hold the ear, tip end up, then cut downward, removing a few rows at a time. Then, with the back of your knife, scrape out the remaining juice/milk. Discard the cobs.

Take 1 cup of the corn kernels and puree in your blender; set aside until ready to use.

In a large skillet or frying pan over medium-low heat, cook bacon strips, flipping over every couple minutes until both sides are crisp and browned. Remove bacon and place on paper towels to let the grease drain off. Set aside the bacon for garnishment or later use (perhaps enjoy a BLT sandwich). Drain off most of the bacon fat but leave enough behind in the pan to completely coat the bottom of the pan.

Turn the stove up to medium heat and add the butter. Heat until the butter just starts to melt. Be sure to not let the butter burn.

Add in the corn kernels and pureed corn and stir together. Stir in the flour, salt, and sugar until combined. Pour in the heavy cream and milk and stir until everything is combined. Let the corn mixture come just to a boil while stirring constantly. Once boiling, turn heat down to medium low and let simmer for about 30 minutes (stirring occasionally) or until the corn is tender.

Place in a serving dish and garnish the top with the crumbled bacon and parsley. Enjoy!
Recipe Notes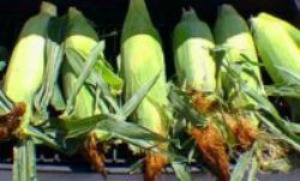 * Fully ripe sweet corn has bright green, moist husks. The silk should be stiff, dark and moist.  You should be able to feel individual kernels by pressing gently against the husk.
As soon as corn is picked, its sugar begins is gradual conversion to starch, which reduces the corn's natural sweetness.  Corn will lose 25% or more of its sugar within 25 hours after harvesting it.  Fresh corn, if possible, should be cooked and served the day it is picked or purchased.
** Can substitute whole milk or 2% milk.
Comments and Reviews