Skillet-Baked Tomato Cobbler recipe is fantastic with ripe tomatoes from the garden.  Since I love fresh tomatoes, a savory cobbler meal grabbed my attention.  Any recipe featuring tomatoes instantly jumps to the top of my list!   My husband and I discussed the idea of baking a warm tomato cobbler topped with biscuits.  The mere suggestion was making my husband salivate and we were both looking forward to dinner.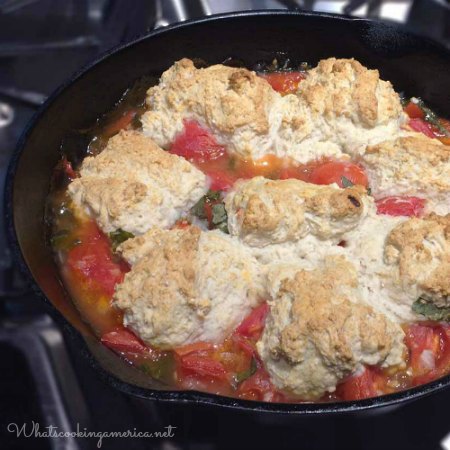 After reading many classic recipes on how to make tomato cobbler, I made my own variation.  Choosing my favorite ingredients that compliment tomatoes, I assembled a recipe for the oven using my cast iron skillet.  Preparing tomato cobbler with Bisquick baking mix (or a similar brand) is the real secret to reducing extra cooking steps.  The cobbler was quick to assemble.  I added sliced tomatoes, chopped fresh basil with seasonings, and then topped the tomato mixture with dropped biscuit dough.  I loved seeing the bright red tomatoes bubbling from under the biscuits as the cobbler baked.  My husband also loved the end results for dinner!  Tomato Cobbler received a big thumbs up and earned a coveted place in the "must repeat" recipes.
While cobblers are typically served for dessert in the United States, many European countries enjoy savory cobblers as a main dish or side dish.  A nice green salad or meats such as beef, chicken or pork can be served with tomato cobbler.  It is also worth noting, that tomato cobbler is also an excellent Vegetarian recipe for non meat-eaters.
Cobbler History:  Cobblers are called by various names such as cobbler, tart, pie, torte, pandowdy, grunt, slump, buckles, crisp, croustade, bird's nest pudding or crow's nest pudding.  Cobblers are also one of the easiest desserts to prepare and bake.  Choose any of your favorite fresh fruits or berries in season or canned preserves from the pantry for your cobbler.  Homemade cobblers are popular since they are simple to make and rely more on taste instead of fancy pastry preparation.  Learn more about the history of cobblers.
Enjoy more Tomato Recipes and check out more Cast-Iron Cooking Recipes.
Learn How To Season A Cast-Iron Pan.
Skillet-Baked Tomato Cobbler Recipe:
Keyword:
Skillet-Baked Tomato Cobbler Recipe
Ingredients
Oil

or butter for baking pan

3

pounds ripe

tomatoes

(8 to 10 medium size), cored and cut into wedges

1/2

cup fresh

basil,

chopped

1

tablespoon

cornstarch

1

tablespoon

sugar

1/2

medium

onion,

chopped

2 to 3

cloves

garlic,

minced

Salt

and black pepper to taste

1 1/2

cups

Baking Mix

(such as Bisquick)

1/2

cup

milk
Instructions
Preheat oven to 375 degrees F. Grease a square baking dish, deep pie dish, or a cast iron pan with the oil or butter (your choice).

Prepare Tomato Mixture: Place the prepared tomato wedges and chopped basil in a large bowl. Add the cornstarch, sugar, onion, garlic, salt, and pepper. Toss gently to combine.

Place the tomato mixture into the prepared baking pan: spread it in the bottom of the pan; set aside.

Prepare biscuit dough: In a medium-size bowl, add the baking mix and milk. Stir ingredients together until a soft dough forms.

Drop the biscuit batter on top of the tomato mixture with a tablespoon (leave gaps between the biscuits so that the steam from the tomato mixture will have a place to escape as the cobbler bakes.

Bake for approximately 45 to 50 minutes or until the biscuits are golden on top and the mixture is bubbly underneath. Remove from oven and let cool.

Tomato Cobbler may be served warm or room temperature.

Comments and Reviews