Vegetarian Recipe – Vegan Recipe
I am not a vegetarian or vegan, but I have several family members who are. For them and my many readers who are also either vegetarians or vegans, I created this web page on how to cook Tofurky. Tofurky is very popular "mock" meat substitute to serve for Thanksgiving and Christmas dinners.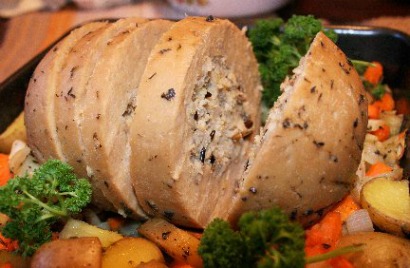 Photo by Peter Gosselin of West Warwich, RI.
According to the Turtle Island Foods of Hood River, Oregon (the manufacturers of Tofurky), the product is a 100% vegan roast made out of tofu and vital wheat gluten which is combined with seasonings which is precooked.  The tofurky roast is roughly the size of a small ham or turkey loaf.  Just like you would cook a turkey, you put it in a roasting pan with the basting of your choice for moisture and flavor.   I slightly adapted and added to the cooking instructions available on the tofurky box.
Check out my Nutritional Chart for fat grams, fiber grams, and calories for all your favorite foods.
Tofurky Recipe:
Instructions
Thaw frozen Tofurky Roast in the refrigerator for at least 24 hours prior to cooking. NOTE: Unopened Tofurky Roast can be kept refrigerated for 30 days.

Preheat oven to 300 degrees F.

When Tofurky is thawed and you are ready to cook, carefully remove plastic casing using sharp scissor or sharp knife. Remove roast from plastic casing.

Place roast either in a tightly covered casserole dish, or wrap with aluminum foil with the desired prepared vegetables.

You can use organic vegetable or mushroom broth/stock for basting. Some other ideas/options for basting liquid below (be creative):

Thoroughly cover the torfuky roast and vegetables with 1/2 of the basting liquid, of your choice. Either cover your casserole dish with a lid or wrap tightly in aluminum foil.

Bake approximately 2 hours or until a meat thermometer registers an internal temperature of at least 120 degrees F. During the baking time, I recommend that you baste every 30 minutes to keep the roast moist. Remove from oven.

To serve, slice the Tofuky roast into 1/4-inch slices using a serrated bread knife. Serve with prepared vegetables and Vegan Gravy.
Recipe Notes
Add as many vegetable as you desire.  Be creative and add different types of vegetables.

I get many readers asking what cooking/meat thermometer that I prefer and use in my cooking and baking. I, personally, use the Thermapen Thermometer. Originally designed for professional use, the Super-Fast Thermapen Thermometer is used by chefs all over the world.  I only endorse a few products, on my web site, that I like and that I use regularly.
You can learn more or buy yours at: Super-Fast Thermapen Thermometer.
Sponsored Content
Basting Recipes for Tofurky
Option 1:
1/2 cup olive oil (or other vegetable oil)
1/4 cup organic vegetable broth
1/4 cup soy sauce or tamari
2 tablespoons red wine
1 teaspoon mustard of choice
Option 2:
1/2 cup olive oil (or other vegetable oil)
1/2 cup organic vegetable broth
Garlic cloves, minced
1 teaspoon ground sage
Option 3:
1/2 cup fresh-squeezed orange juice
Garlic cloves, minced
1/4 cup soy sauce
Brown sugar or other sweetener to taste
Option 4:
1/4 cup apricot jam
1/4 cup red wine
1/4 cup olive oil (or other vegetable 1/4 cup water
More Recipes Using Tofu:
Tofu Walnut Meat Balls
This delicious vegan Tofu Walnut Meat Balls' recipe and photos are from Helen Fried of Hillsboro, Oregon.  These Vegan Tofu Walnut Balls are good cold, served with Tomato Sauce, or Gravy.  We had our granddaughter's wedding reception in our yard, and she requested we serve these meat balls.  We served them cold as finger food.
Tamale Casserole
This delicious Vegetarian Tamale Casserole recipe and photo were shared with me by Sherry Wells of Powell Butte, Oregon.  This casserole is a very hearty and substantial casserole that will appeal to all vegetarians and non-vegetarians, as it is tasty, satisfying, and filling.  Plus it's healthy!
Comments and Reviews