Appetizers – Hors d'oeuvres – Starters – Amuse Bouche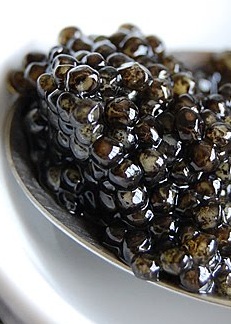 One of the largest collections of trusted party and holiday appetizer recipes on the internet. This Caviar Index includes my wonderful and delicious appetizer recipes using caviar.  The recipes are very easy to follow and will give you delicious results.  Check the recipes out, prepare them for your family and friends, and ENJOY the compliments you will receive!
Learn how to purchase and use American Caviar.
Caviar Dip or Spread
A delicious way to serve caviar. By putting it into this easy-to-make spread, you actually "stretch" your party budget.
Caviar Egg Salad
Dress up you deviled eggs with caviar and impress your guests!
Caviar Plate
Caviar Plate – The Classic way to serve caviar.
Caviar Torte
This appetizer is always a crowd pleaser. Everyone loves it! Great make-ahead dish for your Holiday Open House.
Cucumber-Caviar Salad
This makes a wonderful appetizer to serve your guests.