Caviar Spread with Toast Points is an easy to make, but also very gourmet recipe.  A spread or dip is a great way to introduce caviar to your guests.  You will find this to be a great starter dish for the "grandest" of affairs.
Be sure to add this spread to your future party menu ideas.  It is also a great way to extend the use of this expensive delicacy.  You can choose to make it with either red or black roe allowing you to color coordinate with your party theme.  The spread is spiked with fresh green dill and grated onions.  There is something about dill and fish that make the perfect taste sensation.
Because it is easy to make and an impressive appetizer, bring this caviar dish to your next party, serve it at your next holiday gathering (such as New Year's Eve), or try it at your next Mother's Day tea party.  Everyone feels special when caviar is on the menu.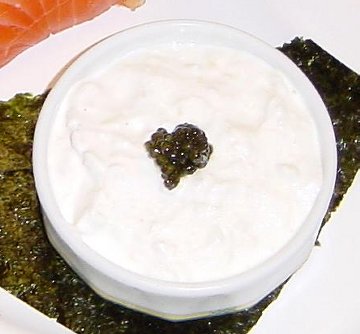 Check out more of Linda's Appetizer Recipes.  Learn all about American Caviar.
Caviar Spread Recipe:
Caviar Spread and Toast Points Recipe
Ingredients:
8 ounces cream cheese, room temperature*
1/2 cup sour cream or creme fraiche
1 tablespoon freshly-squeezed lemon juice
1 teaspoon grated onion
1 1/2 tablespoons finely-chopped fresh dill weed
1/4 teaspoon coarse salt
Coarsely-ground black pepper to taste
2 ounces red or black caviar
Toast Points (see recipe below)
* Whipped cream cheese may be substituted for the cream cheese.
.
Instructions:
In a bowl, mix together cream cheese and sour cream. Fold in lemon juice, onion, dill weed, salt, and pepper. Gently fold in caviar.
Cover and refrigerate until ready to serve. NOTE: May be held in the refrigerator for up to 1 day.
Serve with Toast Points or crackers.
Makes approximately 2 cups.
https://whatscookingamerica.net/Appetizers/CaviarSpread.htm
Toast Points – How To Make Toast Points: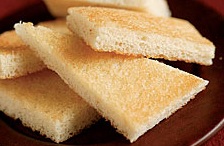 Toast points are a versatile base for all kinds of appetizers and hors d'oeuvres.

Ingredients:
1 loaf, good quality, thin sliced white bread.
Unsalted butter, room temperature
Preheat oven to 350 degrees F.
Directions:
Trim the crusts off and slice the bread in halves on the diagonal, twice, to form four (4) triangles; set the bread on a baking sheet, brush one side with the butter.
Place the bread in a single layer on a baking sheet.
Toast the bread until it is golden brown and crisp on top, about 1 to 2 minutes.  Flip and cook the other side until golden, about 1 minute.  Remove from oven and cool the "points" on a baking rack.
Toast Points can be made up to a day ahead; store them in an airtight container.
More Great Recipes Using Caviar:
Smoked Salmon and Caviar Pizza
Twice Baked Potatoes with Caviar
Comments and Reviews