Cauliflower Crostini is known as Crostini di Cavolfore in Italy.  When I first found this unusual and interesting appetizer recipe, I though "How interesting.  I must try this recipe."  Naturally, I cannot leave any recipe alone and had to make just a few changes to satisfy my taste buds.  You will definitely become a cauliflower lover if you are not one now!
I first served this Italian-style Cauliflower Crostini at a wine tasting to several of our wine friends and it was a big hit!   You and your guests or family will definitely love this unusual and delicious appetizer.  They will be surprised what can be done with just ordinary cauliflower.  Of course, this Cauliflower Crostini recipe is not ordinary!
I have found that cauliflower can be used in so many different kinds of recipes – from gluten-free pizza crusts to cauliflower rice.  It is amazing, but cauliflower can be used in so many different types of recipes.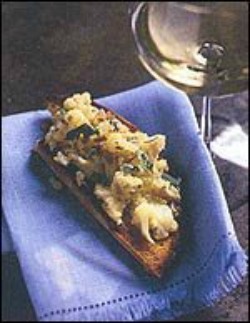 Cauliflower Crostini Recipe:
Cauliflower Crostini Recipe - Crostini di Cavolfiore
Ingredients:
1 (2-pound) head of cauliflower, broken into florets
1 tablespoon extra-virgin olive oil
1 small red onion, finely chopped
1 large garlic clove, minced
1 teaspoon fennel seeds
Coarse Salt or sea salt and freshly-ground black pepper
8 to 10 (1/4-inch-thick) slices coarse bread, cut in half
Extra-virgin olive oil
2 tablespoons finely-chopped flat-leaf parsley, for garnish
Instructions:
In a large nonstick frying pan, bring one (1) inch of lightly salted water to a boil. Add the cauliflower florets, cover and cook over high heat until just tender, about 12 minutes. Using a slotted, spoon, transfer the cauliflower florets to a bowl; reserve the cooking liquid.
Heat 1 tablespoon of the olive oil in the same frying pan. Add the onion and garlic; cook over medium heat, stirring occasionally, until golden. NOTE: Watch the onion carefully, as you do not want them to burn. They should be a lightly golden.
Add the cooked cauliflower, fennel seeds, and a pinch of salt and pepper. Cook, stirring occasionally, until the cauliflower is very tender, about 8 minutes; add a few tablespoons of the cooking liquid if it begins to look dry. NOTE: I ended up adding 12 tablespoons of the cauliflower liquid (one tablespoon at a time during the cooking process) to keep the mixture moist.
Mash the cauliflower to a chunky purée and season with salt and pepper to taste; set aside.
Arrange bread slices in one layer on a large baking sheet; brush both sides with olive oil. Bake in middle of oven until very lightly toasted, about 10 to 15 minutes.
To serve: Sprinkle the toasted bread slices with coarse salt; spoon the cauliflower mixture on top. Drizzle with a little olive oil, garnish with the parsley and serve.
Makes 8 servings.
https://whatscookingamerica.net/Appetizers/CauliflowerCrostini.htm
Sources:  I slightly adapted this recipe from Food and Wine Magazine, October 2000.  Photo also from Food and Wine Magazine.
Comments and Reviews