Dried Fruit, Nuts, Seed Crisps are twice-baked like biscotti and then thinly sliced.  They are excellent served with some cheese and wine.  They are also tasty with just about anything or nothing at all.  I love crackers with nuts and dried fruits in them, and these are so addictive!  Learn how to make your own delicious homemade crackers.
These Dried Fruit, Nuts, Seed Crisps taste just like those fancy, expensive store bought crackers but these are made from scratch and much more affordable.  These easy-to-make crackers require no rolling out as other recipe do.  This is a recipe that you want to use Mise en Place before combining all the ingredients.  Mix and match the seeds and nuts to your liking, just keep the total amount the same.  Also feel free to substitute different dried fruits.
I was first introduced to these crackers by Cathy Farley and her blog Wives With Knives.  I have slightly varied the original recipe for my tastes.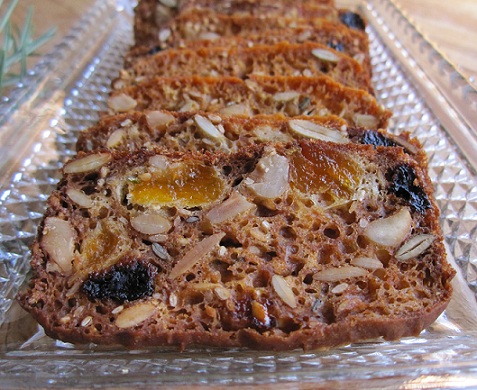 Dried Fruit, Nut, Seed Crisps Recipe:
Ingredients:
Dried Fruit, Nuts, and Seeds (see recipe below)
2 cups all-purpose flour*
2 teaspoon baking soda
1/2 teaspoon salt
2 cups buttermilk
1/4 cup firmly-packed brown sugar
1/4 cup honey or maple syrup
* If you desire, you can use 1 cup all-purpose flour and 1 cup whole wheat flour. Your Crisps will be slightly denser.
Instructions:
Preheat oven to 350 degrees F.
Using non-stick cooking spray, lightly coat three (3) 8" by 4 1/4" small loaf pans.
In a bowl, toss together the Dried Fruit, Nuts and Seeds (dried apricots, cherries or cranberries, hazelnuts, pumpkin seeds, sesame seeds, flax seeds, and rosemary); set aside. NOTE: By tossing the dried fruit with the nuts and seeds, this coats the dried fruit and keeps them from sticking together.
In a large bowl, mix together the flour, baking soda, salt, buttermilk, brown sugar, and honey; stir just to combine (do not over mix the batter). Add the prepared dried fruit, nuts, and seed mixture; stir just until blended. Pour batter into the prepared loaf pans.
Bake approximately 30 minutes until golden and springy to the touch. Remove from oven and let cool 10 minutes on a wire rack. After 10 minutes, remove from the loaf pans and let completely cool on the wire rack.
When cooled, wrap tightly in plastic wrap and either refrigerate or place in the freezer until ready to cut.
When ready to slice, remove from the refrigerator or freezer.
Frozen Loaves: Loaves will store in the freezer about 2 months. If the loaves are frozen, let thaw slightly for easier cutting. Also by keeping the loaves in the freezer, this allows you to bake and and slice a batch as you need or want them.
Refrigerated Loaves: The cooler the bread, the easier it is to slice them really thin. In other words, do not try to slice room temperature loaves.
Slicing the Loaves: Using a sharp knife (I used my serrated bread knife), slice the loaves as thinly as you can. Place the slices on ungreased cookie sheets. If your knife is not sharp, please sharpen it before beginning to slice.
Preheat oven to 300 degrees F.
Bake the slices approximately 15 minutes on one side, and then turn them over and bake for approximately another 10 minutes until crisp and deep golden.
Remove from oven, remove from baking pan to a wire cooling rack, and let cool. Store in an airtight container.
Dried Fruit, Nuts, and Seeds:
1/2 cup dried apricots, coarsely chopped
1/2 cup dried cherries or dried cranberries, coarsely chopped
1/2 cup roasted hazelnuts, lightly chopped
1/2 cup toasted squash and pumpkin seeds
1/4 cup roasted sesame seeds
1/4 cup flax seeds
1 tablespoon fresh rosemary, chopped
If you cannot purchase roasted nuts, toast the nuts in a 300 degree F. oven for approximately 10 minutes (watch closely so they do not burn), stirring frequently.
https://whatscookingamerica.net/Appetizers/DriedFuitNutCrisps.htm
Comments and Reviews