Walnut, Arugula, and Gorgonzola Crostini appetizer is a mix of tangy gorgonzola cheese, chopped toasted walnuts, and peppery arugula to make a delicious topping for crostini.  This is actually considered a healthy appetizer that is good for you!  What could be better than a appetizer that is healthy and also good?  Perfect to enjoy while sipping on a glass of your favorite wine.  Give these appetizers a try!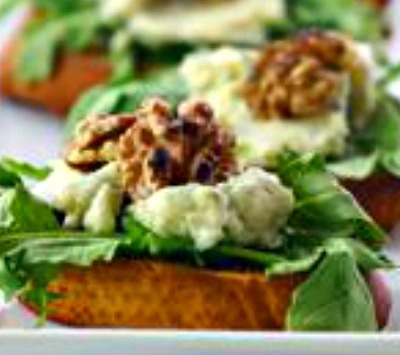 Walnut, Arugula, and Gorgonzola Crostini Recipe:
Goat Cheese and Truffle Oil Crostini Recipe
Ingredients:
1 baguette, cut into 24 slices about 1/4 inch thick
1 medium garlic clove
8 ounces goat cheese
Truffle oil*
Fresh thyme leaves
Freshly ground pepper
* Bottled truffle oil loses aroma over time as it is a truffle extract infusion. This delicate oil loses characteristic aroma quickly, so store in the refrigerator. If you are a truffle fanatic, like me, you will have no trouble using it before the aroma is weakened.
Instructions:
Prepare crostini: Preheat oven to 350 degrees F. Arrange the bread slices on a baking sheet. Brush with olive oil and bake for approximately 6 to 8 minutes. Remove from oven and very lightly rub the toasted bread with the garlic clove. Allow to cool before adding toppings.
When ready to serve, spread each slice of toasted bread with a thin layer of goat cheese. Pour a small amount of truffle oil into a teaspoon and tilt the spoon to sprinkle 3 or 4 drops on each toast. Sprinkle pepper over the top and garnish with a few thyme leaves.
https://whatscookingamerica.net/Appetizers/GorgonzolaCrostini.htm
Source:  This recipe from the Bon Appetit magazine, February 1997 issue.  Crostini photo from DeLallo
Comments and Reviews