Check out this very unusual, simple to make, and delicious Jicama Salsa!  Jicama is a legume that is grown for the large tuberous roots which can be eaten raw or cooked and are used as a source of starch.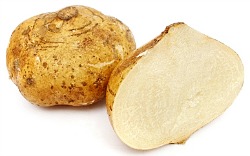 Jicama (HEE-kah-ma), also known as Mexican yam bean and Mexican turnip, is an edible bulbous root vegetable that resembles a turnip.  It has thin brown skin and crisp, juicy, white flesh that's mild in flavor.  It is grown in the warm climates of Central America.  Jicama can be eaten raw or cooked.  It is very similar in texture to a turnip with a taste a lot closer to an apple.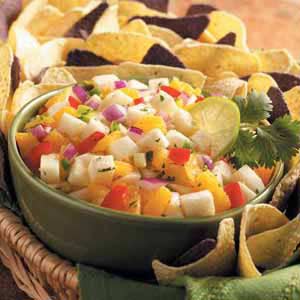 Jicama Salsa Recipe:
Ingredients:
2 cups peeled and chopped jicama*
1 tablespoon fresh cilantro, chopped
1 tablespoon fresh-squeezed lime juice
1/2 teaspoon chili powder or to taste
1/4 teaspoon coarse salt
1 medium cucumber, peeled and chopped
1 medium orange, peeled and chopped
* Simply use a vegetable peeler or sharp knife to remove the outside layer.
Instructions:
In a large bowl, combine the peeled and chopped jicama, cilantro, lime juice, chili powder, salt, cucumber, and orange.
Cover and refrigerate for at least 2 hours before serving.
https://whatscookingamerica.net/Appetizers/JicamaSalsa.htm
Source:  Photo from Taste of Home magazine.
Comments and Reviews