This country-fried venison steak recipe is from my sister-in-law, Shirley Roth of Alamogordo, New Mexico. Shirley sent me these photos of cooking an Oryx (antelope) steaks from White Sands. She cooked it the same way you would cook venison steaks (it is my husband's favorite way of cooking wild game steaks).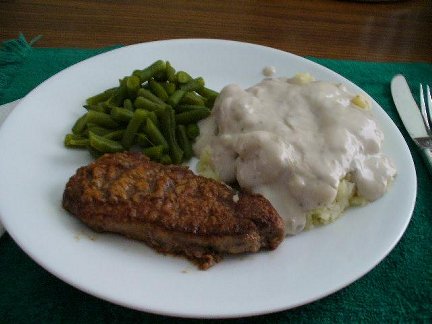 Country-Fried Venison Steak Recipe:
Country-Fried Venison Steak Recipe
Ingredients:
1/2 cup all-purpose flour
1/2 teaspoon salt or to taste
Freshly-ground black pepper
2 pounds boneless deer, antelope, elk, or moose back strap steak (cut into four individual portions), about 1/2-inch thick
1/3 cup vegetable oil*
Milk Gravy (recipe follows)
* You can substitute bacon grease, if desired.
Instructions:
Preheat oven to 150 degrees F. Remove any fat on the steaks.
In a shallow pan or plate, sift together flour, salt, and pepper; dredge the steaks and coat both sides.
In a large frying pan (I use my cast-iron frying pan), over medium-high heat, add vegetable oil and heat until a drop of water sizzles. Add coated steak pieces, in batches, and sear the steaks 4 to 5 minutes per side or until golden brown, moving them with tongs a little so they do not stick to the bottom (add additional vegetable oil if needed). Use a meat thermometer to test for doneness. NOTE: Do not overcook as wild game meat has a tendency to become less tender very quickly if overcooked or cooked at too high a temperature.
For best grilling results, cook steaks according to a Cooking or Meat Thermometer. Remove steaks from frying pan 5 degrees before your steak reaches the desired doneness. Let steaks rest 5 to 10 minutes before serving. During this time the meat continues to cook (meat temperature will rise 5 to 10 degrees after it is removed from the oven) and the juices redistribute.
Rare - 120 F.
Medium Rare - 125 F.
Medium - 130 F.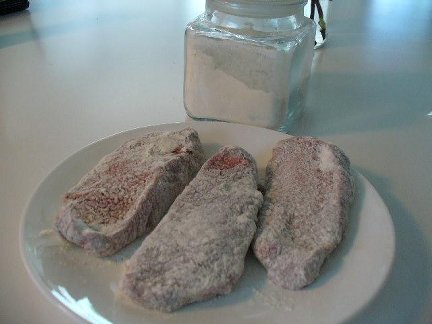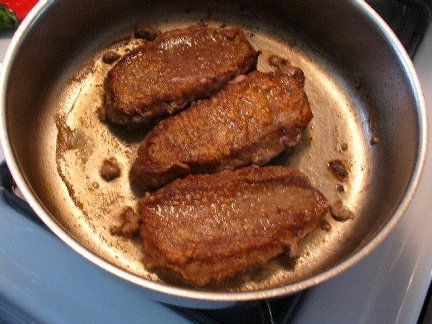 When steaks are cooked, remove from pan and keep cooked steaks warm in preheated oven. Pour off all but 2 tablespoons of the cooking oil. Put the frying pan back over the heat and make the Milk Gravy.
https://whatscookingamerica.net/Beef/FriedVenisonSteak.htm
Milk Gravy:
2 tablespoons pan drippings
1 tablespoon all-purpose flour
2 cups milk, heavy cream or evaporated milk, room temperature
Salt and freshly-ground black pepper
In the same frying pan with 2 tablespoons pan drippings, over medium heat, sprinkle flour over the oil and blend with a wooden spoon or whisk until smooth. Whisking or stirring constantly, slowly pour in milk, cream or evaporated milk; continue stirring, scraping loose browned bits from the bottom and sides of skillet, until the gravy begins to boil and thicken. Season with salt and pepper to taste.
Reduce heat to low and simmer, stirring occasionally, 5 to 8 minutes or until gravy is thickened to the desired consistency and the flour has lost its raw, pasty taste. Remove from pan and serve hot with the venison steaks.
Comments and Reviews